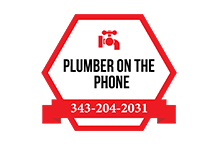 Plumber
ON THE PHONE
Plumber on the Phone is proud of our perfect 5 star Google rating for our residential plumber services.
We are a family-run and operated plumbing business that provides top-quality plumbing services in Barrhaven and the greater Ottawa area.
With fair and honest plumbing rates, Plumber on the Phone will be your next favourite plumber! Our local plumbers specialize in residential plumbing like: toilet, basin and bathtub installations, hose bib repairs, plumbing renovations and more
Get the best bang for your buck with Ottawa's most affordable and experienced plumbers.
Speak directly to the owner and master plumber by calling
343-204-2031
John The
PLUMBER
BARRHAVEN
John The Plumber is here to provide fast and expedient solutions to all your plumbing problems.
Our plumbers are fully licensed and insured and committed to the John The Plumber mission of providing each and every customer with quality plumbing products, expert workmanship and service that goes over and above what is required.
Telephone: (613) 454-5585
Out of this World
Plumbing
Barrhaven homes are showing their age with the increasing number of plumbing issues. Out of This World has completed thousands of plumbing repairs in Barrhaven, and we've taken note of common issues you are likely to find in each neighbourhood.
At Out of This World Plumbing, all our techs are thoroughly trained and background checked, and our plumbers are Red Seal certified. We are committed to treating you, your home, and your pets (not to mention your plumbing system) with respect – 100% satisfaction guaranteed!
Telephone: (613) 519-1342
Hot Water Ottawa
& Barrhaven
Hot Water Ottawa offers water heater repair, replacement, service, and rental. We work with both hot water tanks and tankless water heaters in the Ottawa area.
Would you like to know more about our Ottawa hot water heater services?
Do you need a quote for a water heater repair, installation, tune up, or rental?
Call us today!
Telephone: (613) 729-5052