Spring Into Summer – Barrhaven Shopping Fair
|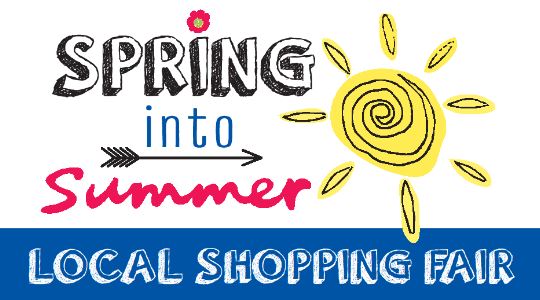 Spring Into Summer – Local Shopping Fair
Barrhaven businesses and students team up
The Barrhaven Business Improvement Area is providing the opportunity for local high school students to gain hands-on business skills to organize the Spring into Summer Local Shopping Fair on Sunday, June 11th at Mother Teresa High School, at 440 Longfields Rd. The event takes place from 11:00am to 3:00pm and will feature many products for sale from local makers and sellers.
Mother Teresa Students rolled up their sleeves for months in the planning and promotion of the tradeshow-style shopping event. They gave input on the name, logo, theme, physical layout design, press releases, social media advertisements, and general communication tasks. All students in the Business department were invited to pitch their favorite charity, with CHEO winning the final vote. They ran a contest to see which student could create the best logo and slogan. Ben, a grade 11 Marketing student had the winning design and nearly everyone agreed that Spring Into Summer was a great brand name and theme for the shopping fair. "I really enjoyed the design aspect of the promotional campaign when working on the logo task because I like to draw and create" said Ben.
The shopping fair will also feature a cafe put together by hospitality students, with live student music and a display of student-made visual art. Hospitality teacher Karen Guillet says students "are very excited to practice event planning and showcase their culinary skills". The music students have been practicing for some live concerts and are looking forward to another opportunity to showcase their talents.
Titans Den is a newly formed business club in the school to provide students who may not be enrolled in a business class, with leadership, practical skills development, and enrichment opportunities. The club will also be involved in coordinating volunteers for the event. This exciting event has even inspired MT Business alumni to return to be involved. Club Co-Presidents Michael Ionescu and Aaron Owusu Agyemang say "it's been a great way to put the business skills we learned in class into practice in the real world".
There will be over 40 local vendors selling their locally made or crafted items or showcasing beauty products, health care, giftware,  jewelry, youth products, baked treats and much more. The product categories range from cosmetics and beauty care to professional services and fitness.  Entrepreneurs and small- business people are welcome to purchase a table for $50 – all the proceeds will go to the CHEO Foundation.
Together the BBIA and Mother Teresa HS teachers and students are hoping to support and energize the local shopping community in Barrhaven. There are many makers and sellers that operate mostly online through social media sites like Facebook.  This shopping event will bring them and their customers together in a unique and fun atmosphere. The shopping fair has provided a number of opportunities for young entrepreneurial students and will provide a major benefit to the Barrhaven community and local small-business economy. Mr. Nuyens, the grade 11 Marketing teacher said "The buy-in from students of the 'shop-local' movement has been tremendous, where these students are getting a real first-hand view of what it could be like to be your own boss. It's really quite inspirational".
Andrea Steenbakker is the executive director of the Barrhaven BIA, she said that "It's driven by the spirit of collaboration with various partners in Barrhaven.  It is important to us to empower and engage local youth to help them understand that they are contributors and that they can make a difference. Supporting tomorrow's business leaders fosters a healthy community!"
The Spring Into Summer shopping event is sponsoring the CHEO Foundation, a very worthwhile charity that was voted for by students for all of the proceeds of the event to go towards. Funds raised from the table fee for vendors as well as a $1 or $2 admission entrance fee will all go towards supporting the work of the Children's Hospital of Eastern Ontario, which holds a special place in the hearts and minds of so many local families who have required their excellent services.
Residents of the community are asked to please join in on the fun day of shopping and supporting their local Barrhaven business community at the first Spring Into Summer Local Shopping Fair at Mother Teresa High School.