November 1st-7th is Carbon Monoxide Awareness Week
|
(NC) – A new law is in effect in Ontario that requires all homes of any age to have at least one working carbon monoxide (CO) alarm installed outside sleeping areas if there is a risk of CO exposure. This year, Carbon Monoxide Awareness Week takes place from November 1 to 7 across the province, a chance to get learn more about this deadly gas.
Being at risk of carbon monoxide exposure applies to all houses, apartments or condos that have (or have an adjacency to) any of the following:
Fireplace: Wood, propane, gas or any other fuel
Furnace: Oil, natural gas or propane furnace or heating system
Water heater: Gas, propane or any other fuel
Appliances: Gas or propane stove, washer/dryer or other appliances
Garage: An attached garage or a carport
With the new law, Ontario becomes the second province or territory in the country to take steps to safeguard citizens from the danger of carbon monoxide. Yukon Territory became the first to pass such a law in May of 2013.
Carbon monoxide is called the silent killer because humans cannot see, smell or taste the deadly gas. The only way it can be detected is with a CAS-approved CO alarm.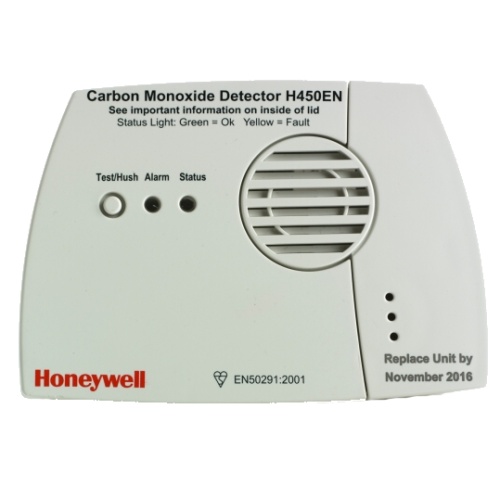 John Gignac, a veteran 34-year Brantford firefighter, lost his niece Laurie Hawkins, her husband and their two children in one horrific CO accident just before Christmas 2008. The story made national headlines and quickly focused safety officials on the growing number of carbon monoxide poisonings happening in Canadian homes.
Oxford MPP Ernie Hardeman quickly introduced a Private Members' Bill in the Ontario Legislature called the "Hawkins-Gignac Act" aimed at making CO alarms mandatory in every home where there was a risk of carbon monoxide poisoning. After more than five anxious years, John Gignac received his due.
"We got close on a number of occasions and each time the law was turned back, I admit, I had a few choice words for our politicians," Gignac says. "But in the end, they got it done. What Ernie Hardeman started, our government has, at last, finished. Now Ontario families are safer, and, our family is grateful that our tragic accident can help save the lives of others."
Although the law is in effect now, the government is giving homeowners a phase-in period to install CO alarms in their homes. Landlords, who have the responsibility to install these alarms in rental units that have or are adjacent to CO risks, also have a phase-in period to comply with the new law.
"I also urge people who have CO alarms already, to check the age because they must be replaced every seven to 10 years," Gignac notes. "Sensors can become obstructed, and technology has made significant advances lately, including alarms that have sealed batteries lasting 10 years from activation, never needing to be changed."
Gignac adds that another important step for homeowners is to have all heating systems and ductwork inspected each year by a licensed technician who can pinpoint any areas in the home that may contribute to the risk of carbon monoxide exposure. "In my niece's case, it was a clogged vent connected to their gas fireplace that forced the carbon monoxide back into their home. They did not have a CO alarm, so they had no idea there was danger."
More information can be found on the Ontario government web site, or at www.safeathome.ca.
How to protect yourself from this silent killer
Ontario's new law that requires homeowners (and landlords) to install at least one working carbon monoxide (CO) alarm outside sleeping areas (if there is any risk of CO exposure) has many health and safety officials breathing a sigh of relief. Many homeowners though, might be scratching their heads.
While smoke alarms have had more than 25 years to become part of any safe home, carbon monoxide alarms are a relatively new entry. Take a look at some valuable tips for protecting your family, since humans cannot see, smell, or taste this silent killer:
Carbon monoxide gas has almost the same density as air. That means it mixes freely with it, rather than rising above it (like hot air) or falling below it (like cold air).
Since carbon monoxide mixes with air, it means that a CO alarm can be installed anywhere: on the ceiling alone or as a combination smoke/CO alarm (battery powered or hardwired); down near floor-level (plug-in); or on a bookcase or shelf (battery power only).
If you choose a plug-in or hardwired model, be sure it also has a battery backup. A power outage is not a good time to be unprotected.
Symptoms of carbon monoxide exposure include feelings similar to the flu, without the fever. Another telltale sign that you may have carbon monoxide in your home is that you feel lethargic, nauseous and achy in the house but quickly feel better when you go out. Then, when you return, the flu-like symptoms return.
Two of today's most popular CO alarm choices are: models that have battery backup and continuous (not push-button) digital displays that show you if low levels of the gas are present, allowing you to take corrective action before an emergency can happen; and, CO alarms that have sealed lithium batteries lasting 10 years from activation.
New models also feature a built-in "end of life" signal that tells you when 10 years are up and it is time to replace the entire unit.
"When you do the math, a homeowner can save about $40 during the 10-year lifespan of their alarm by switching to a worry-free model with a sealed lithium battery," says Carol Heller, a home safety expert with alarm manufacturer Kidde Canada. "And since most homes have at least two smoke alarms and one CO alarm, the savings can really add up. On top of that, the freedom of never having to change batteries again is a real hit with homeowners."
www.newscanada.com