DateNight: A great app that matches Barrhaven parents with local babysitters
|
As we all know, new Apps are appearing everyday to help bring more and more convenience to our lives. Think UBER and AirBnB. And now, we have a new app that promises to bring more romance to the community. DateNight is a new app that matches Barrhaven parents with local babysitters. Read on to find out more.
What kind of parent finds a babysitter through an app?
This is the initial response we often get when people first hear about our app "DateNight babysitting" (link to www.weneeddatenight.com) that connects parents with local, experienced babysitters.
When we launched in Toronto in 2014, some people were skeptical. Apps like Uber and Airbnb were already in full swing – when it came to trusting somebody to stay at your property or drive you around, it didn't seem as hard as trusting someone with what you value most in this world – your children.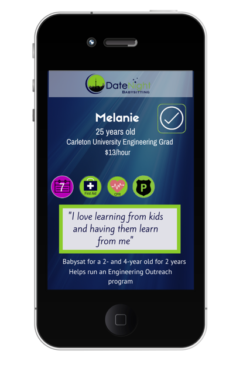 But DateNight isn't much different from the process that we all use to find babysitters and once people gave us a try – they loved us. They loved that we helped them set up interviews with great candidates. They loved that they didn't have to spend a lot of time sifting through mediocre babysitters. They loved that we provided them with a short list of high quality babysitters. They loved that they didn't have to waste time with the back and forth of trying to find a convenient time to meet. They loved that we made it easy for them to check references. They loved the ease of the payment process. They loved that they could confidently recommend our service to their friends.
What sets us apart from other companies that help you find a babysitter is that we pre-interview every babysitter on our roster. One user put it perfectly "with other babysitting sites it's like fishing in a huge murky lake. With DateNight, it's like fishing in a small clear pond." Our babysitters are required to have at least two years of experience with kids and to provide two child-care related references that are passed along to parents once a babysitter agrees to interview with them. Many of our sitters have backgrounds in early child education, many have been babysitting since high school.
DateNight was founded by a mom who had realized how badly she and her husband needed to have more nights out together. She originally thought it was a scheduling issue but soon realized that so many parents had a problem finding great babysitters. DateNight is also run by a team of moms. We know what we would look for in a babysitter and what we would want to know about somebody who we are leaving our children with.
The DateNight app makes it easy and quick to find a babysitter and book a date. In less than ten minutes, you can book a few interviews with babysitters of your choice. After you interview them, if you both agree that you would like to work with each other, you can book a date with them with only a few clicks on the app. Send your request to several babysitters at once, to increase the chances that somebody is available for the time you need them. And at the end of your date, you pay with credit card through the app, avoiding an awkward cash hand over and a stop at a bank machine.
So what kind of parents find a babysitter through the DateNight Babysitting app? Good ones. Ones that care about who is watching their kids. Parents who are busy and want to quickly set up interviews – because with DateNight, they know that they'll be meeting great candidates.
Try out us today – use "barrblog" as your promo code to receive $10 off.
www.weneeddatenight.com