New take-out food service Thai Station brings authentic Thai Cuisine to Barrhaven residents
|
Thai Station Barrhaven – Review
A Taste of Authentic Thai Cuisine
A few weeks ago I discovered a new Barrhaven take-out food service that peaked my curiosity. The first reason it captured my attention is that I love Thai food. In fact, I love all forms of Asian cuisine. The second reason was that it wasn't a fast food chain; this was genuine Thai cuisine, prepared by chefs who are genuinely trained in the Asian culinary arts.
Thai Station shares a facility with both Tim Horton's and The Quickie store, located inside the Ultramar Station at the corner of Rideaucrest Drive and Woodroffe Avenue. The staff is very friendly and courteous and prepares the food fresh on order. I really like that.
So, how does the food measure up to other take-out options in Barrhaven? To be honest, quite well. I love flavorful dishes prepared with fresh ingredients. I'm somewhat picky that way. And when it comes to flavour, Thai Station does not disappoint. They've obviously taken time to fine tune their dishes in such a way as to bring an authentic Asian dinning experience right to your doorstep.
First up was the appetizer – a nice vegetable spring roll. It was warm, crispy and most importantly, not greasy. It had light texture with a nice veggie filling. Delicious and a nice preview of what lied ahead.
My main dish featured both a chicken and beef entree. Each was served with a medley of vegetables that were cooked to perfection – warm, with a slight crisp bite to them. The meats were also very well prepared, with a nice texture and pleasing to the palate. The side dish of rice was fluffy and lite, without any hint of stickiness. But what really stood out for me was the sauces that brought these wonderful ingredients to life. They genuinely are the main feature of these dishes. Each bite was incredibly flavorful. As good, if not better, than what I would expect in a restaurant. The spices are mixed in a perfect harmony, bringing out the best of both sweet and spicy accents. Portion sizes were very nice as well, and the food was still very warm despite an 8 minute drive home.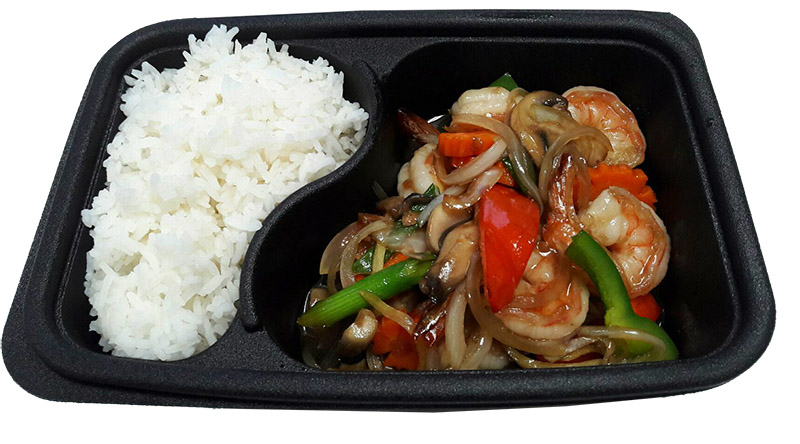 Barrhaven residents have many great choices in terms of take-out food in Barrhaven. It's nice to see additional ethic selections appear on the food scene as our community grows in both size and diversity. If you're looking to enjoy Asian take-out food, Thai Station is sure to please. Make no mistake, this is not fast food by any stretch. It's authentic Thai cuisine that's sure to be a hit with both family and friends.
In addition, They can prepare lunch or dinner boxes for meetings and events.
Thai Cuisine Cooking Classes in Barrhaven
Thai Station also offers cooking classes for those of you who wish to learn how to cook these amazing dishes at home. As stated above, you'll be trained by authentic Thai chefs who are masters of their trade. This is a great opportunity to learn new dishes that are not only flavorful, but also very healthy for your family!
Cooking classes are offered for groups (maximum of 4 people). The cost is $100 per person. You'll learn how to make a Thai appetizer, 2 main courses (normally one curry, and one stir-fried dish), and one dessert. Best of all, you get to bring the food home after class! Individual classes can also be arranged if preferred.
How to order from Thai Station in Barrhaven
You can view the Thai Station menu on their Facebook Page at https://www.facebook.com/ThaiStationcanada/
You can also follow them on Twitter at https://twitter.com/ThaiStationCA
Thai Station is currently pick-up only, but a delivery service is being planned.
Orders can be placed by calling 613 663-6144
Their hours of operation are:
Monday to Friday, 11am-9pm
Saturday to Sunday, 4pm-9pm