OOMA Home Phone Review – How we reduced our home phone bill to less than $5 per month
|
OOMA Home Phone Review
Before I get started, I want to say that this post isn't for everyone. I know that many of you have ditched your telephone landlines in favour of mobile devices. Nothing wrong with that. But for those of you who still prefer the call quality and convenience of a landline, the following article will be of interest.
There are many telephone landline providers in Canada, each with their own set of features and price points. Truth is, if you're paying more than $5 per month for landline service, you may be paying too much.
An internet phone service that actually works
We've tried multiple internet telephone services (also known as VOIP services) in the past, with most of them falling short of our expectations when it came to call quality and dependability. Yes, they were cheap, but you got what you paid for. But that all changed when we switched over to OOMA.
We decided to give OOMA a try after friends recommended the service to us. They raved about the cost savings and call quality. I must admit, I was skeptical at first. I had tried many other internet phone services in the past and mostly walked away disappointed. But I have to say, OOMA has won me over. It truly does deliver a decent home phone experience for only $5 per month.
OOMA – Home Phone Service for only $5 per month
I ordered my OOMA unit on Amazon for $129 and received it the next day.
When I opened the box, I was immediately impressed with the build quality and ergonomics of the unit.
It's an attractive black box with a nice LED logo on the surface which lights up when you interact with the unit. It's a small feature, but it gives the hardware a premium feel.
The OOMA unit was designed with ease of use in mind. The hardware is essentially an easy to use answering machine with only five buttons:
Volume control
Play Message
Next Message
Previous Message
Erase Message
The back of the unit features a power connector, two network ports, and a telephone port. There is also a USB port which is used to host a wireless adapter – more on that feature later.
Physical setup
In terms of physical setup, you simply plug the unit's AC adapter into the wall, then plug the unit into your home network using an ethernet cable. You then simply plug in your home phone and that's pretty much it.
In our case, we simply plugged in our existing wireless phone system and it worked perfectly – so no need to change any of your existing telephones – chances are, OOMA will work fine with them.
TIP: Buy the unit with the included wireless adapter
We strongly recommend that you buy the unit on Amazon.ca for one simple reason – it includes a FREE wireless adapter.
The wireless adapter allows you to install the base unit anywhere in your house, without the need to plug it into a network port or router.
Because the base station also functions as an answering machine, this is an important consideration.
Phone service setup
Once we finished installing the OOMA hardware, it was time to go online to configure and register our new unit.
This was very easy to do. We simply visited the OOMA website to create an account and entered our unit's serial number. We also entered our billing information when prompted.
The unit then started flashing a blue light to indicate it was being registered, and automatically upgraded itself to the latest version of its firmware – nice!
We were then prompted to choose our new phone numbers. And this is where things get interesting. With OOMA, you get two phone numbers. We chose one number for our personal calls and a second number for our home business.
You can choose to port your existing number to OOMA for a fee – but take note – you cannot cancel your previous phone service until your number has been successfully ported over. This can take a few weeks, so in the short term, you may have two active phone services.
We chose to abandon our previous phone number because of excessive telephone soliciting. Our apologies to whoever inherits it!
Features setup
The OOMA telephone service is packed with useful features that you can enable/disable/configure via their online portal.
Here is an overview of some of our favorite features:
You can set how many times you want your phone to ring before the call is sent to voicemail. The system will also send voicemail notifications to your email and/or mobile phone via text message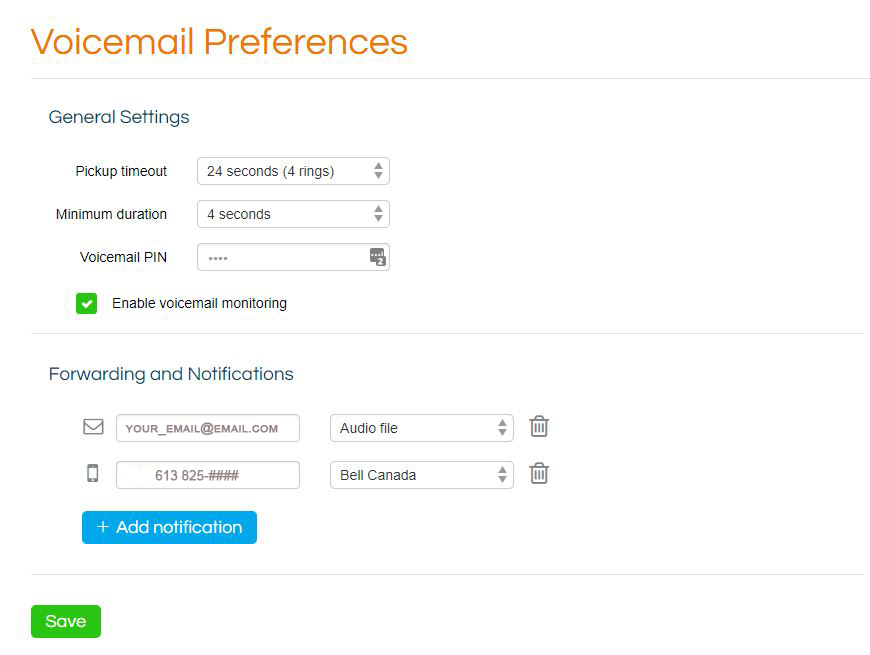 You can have the system send you both an email and text notification when someone at home dials 911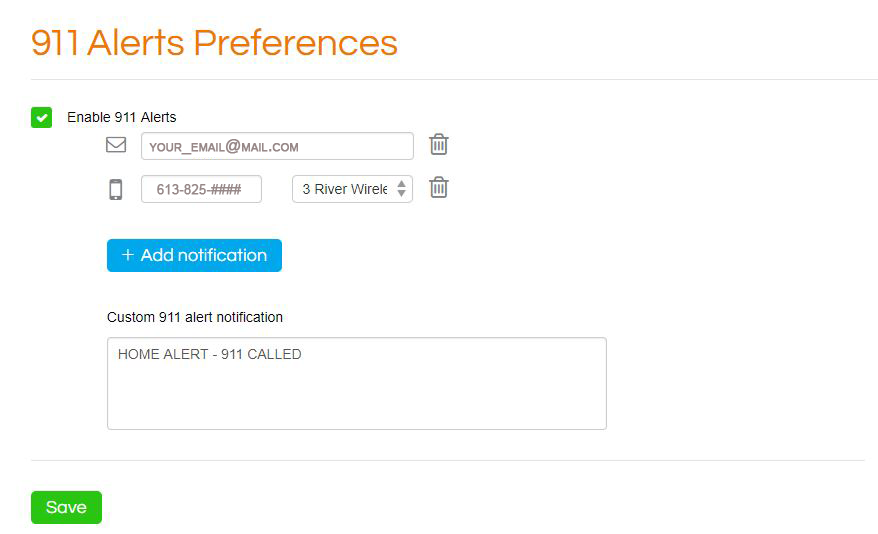 OOMA features an automatic SPAM filter. You can choose to have the system ignore suspected SPAM calls, or send them straight to voicemail. The SPAM filters are highly configurable.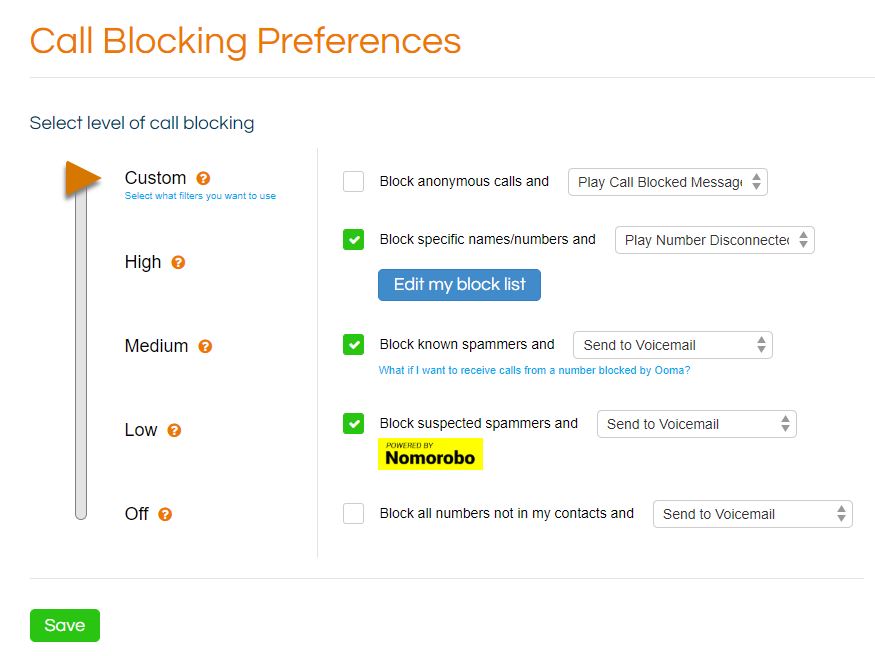 You can have your OOMA ring your mobile phone every time your home phone rings, or forward to a cell phone if the internet is down
As you can see, not only is OOMA packed with incredibly useful features, they are all very easy to configure right from your web browser.
The OOMA mobile application
OOMA is so much more than just a home phone solution. The service includes an app that you can install on either your iPhone or Android device. This app allows you to make calls, receive calls when your phone rings at home (yes, your home phone and mobile will ring at the same time!) and listen to your voice mail.
The app will also allow you to configure most of the features listed above. A very useful addition that helps round out this amazing service.
We should note that the call quality on the app isn't as good as the home service – it gets the job done in a pinch, but it is highly dependent on the network speed of your mobile phone provider.
OOMA pricing and call quality
We've been using our OOMA home phone service for a few months now. Overall, we've been very impressed with the call quality. Being an internet based service, call quality will be dependent on the overall speed of your home internet service, but most mid-tier cable and DSL internet services should play nice with OOMA.
We should note that OOMA call quality is the best we have experienced from any internet phone provider.
In terms of pricing, the base unit cost $129 – and that includes the wireless adapter if you buy it from Amazon.ca.
Our monthly service fee is under $5 per month, and that includes Canada wide long-distance.
International call rates are very affordable, and if you make lots of international calls, there are fixed rate plans you can subscribe to for an additional fee.
Conclusion
The OOMA home phone delivers on its promise of affordable home phone services. It's an affordable solution that delivers decent call quality for its $5 per month price point.
We strongly recommend that you purchase the unit from Amazon.ca as it includes a FREE wireless adapter that allows you to install the unit anywhere in your home.

BarrhavenBlog.com is a participant in the Amazon Services LLC Associates Program, an affiliate advertising program designed to provide a means for sites to earn advertising fees by advertising and linking to Amazon.ca