The 5 Most Cost Effective Home Staging Tips
|
Getting your home ready for sale means putting some time and effort into how it will look to potential buyers. According to the Real Estate Staging Association, staged properties spend 73 percent less time on the market, and usually sell for more money. The concept is simple: the better your house shows, the better your chances of getting a good quality offer in a shorter amount of time.
Although some real estate marketing companies like PropertyGuys.com include staging as part of their listing packages, there really is no need to hire a professional or spend thousands of dollars upgrading and remodeling right before you put your home on the market. With a bit of elbow grease and a few inexpensive touches you can stage your own home and get it ready for successful showings.
Tip #1: De-Personalize
Potential new owners want to see a home that they can make their own. Walking into living spaces filled with family portraits and personal affects make it hard for a buyer to visualize himself or herself and their belongings in the space.
Tip one of cost-effective home staging is to de-personalize. As you take away the things around your home that are personal you are creating room for the buyer to see their own furniture, family portraits and collectables in the house. This will not only make your space more memorable, but also increase the chances that they will want to purchase the property because they can already see themselves living there.
As you are deciding what to take away and what to leave try to remove anything that would give personal information about you or your family. For instance: family photos and trophies, kids' posters, degrees or diplomas, anything you would hang on a refrigerator or that indicates a hobby, should all be packed up and removed.
De-personalizing your home doesn't have to cost you anything and can save you time if you take it as an opportunity to begin preparing for your upcoming move. Carefully wrap, pack and label as these will be the boxes that make your new residence feel like home.
Tip #2: Clean and De-clutter
A clean home gives the impression that you have taken care of your property and can put a potential buyer at ease. At the same time, a clutter-free home creates space, which is a top commodity for buyers. If your home looks unkempt, it could indicate to a potential buyer that there are more significant, hidden issues with the property and they may move on to the next listing instead of moving forward with an offer and an inspection. If it is full of clutter, it will appear smaller, darker, and less inviting. Cleaning and de-cluttering are important steps to staging your home.
There should be no pet hair, dishes or dirty clothes for a potential buyer to view and cleaning window coverings, including blinds and curtains, can go a long way in freshening up your house. Buyers also like looking into closets and cabinets so take some time to straighten these areas and pack away what you are not using regularly. When you are cleaning and de-cluttering don't forget any outdoor storage areas that are being sold with the property, like garages or sheds, that a potential buyer may want to peak into.
As you de-clutter pack away decorations and items you want to take to your new location, but that you don't need on a daily basis. The more space you create, the more open and inviting your property will look.
Regardless of how much time, effort or money you have put into maintaining your current property, cleaning it up and removing the clutter will give the best impression. The plus side is that clean up only costs you in elbow grease and can be a great opportunity to simplify your own life.
Tip #3: Painting and Touch-ups
If the goal is to provide space for a potential buyer to see himself or herself in your home, painting is a great way to make sure that you are providing a neutral canvas. Any bold, stylized colors you have chosen may not fit the furniture and décor of a new buyer. Repainting in neutral colors will provide a welcoming atmosphere for the buyer's own style.
Paint areas of high traffic and anywhere fading has occurred to help your home feel and look fresh and new. Baseboards are a good example of a quick paint job that will clean up your space. Paint any high-traffic area walls or doors as well as any areas of discoloration like ceilings from smoking, bathrooms that have gotten musty, or areas where pets have spent a lot of time. For older kitchens, consider painting kitchen cabinets to save on the cost of replacing them while also cleaning up and brightening the kitchen space.
Other touch-ups around your home can include filling nail holes, removing old wiring, fixing hinges or drawers, and minor maintenance that often doesn't take long, but could have been waiting on the back-burner for some time.
Tip #4: Lighting
When a potential buyer comes into your home they should be able to look around easily. Soft lights or any natural lighting that you have available are great ways to improve the look and feel of your space. Before a showing, open up blinds or curtains to let in fresh sunlight. Replace any burnt out bulbs, including the ones in bathroom vanities, and clean and dust lamps, fans and overhead lighting. Use energy efficient bulbs as much as possible around your home.
If you have any light fixtures that are dated, consider replacing them with an inexpensive, modern version that will aid in helping the space feel more up-to-date. Matching lighting throughout congruent areas of the house can go a long way in improving the look and feel of your space and isn't necessarily expensive. Anything you can do to lessen the list of things that a potential buyer would need to replace or update in order to enjoy your home will help the process of getting a good offer.
This lighting tip includes outdoor lighting as well. Consider a motion-activated light outside of the front door so showings that happen in the evening start with a lit pathway and bright entryway. Replace any bulbs in outdoor lights like back patios so the buyer and realtor can really see your property without strain.
Tip #5: Landscaping
Curb appeal often comes down to landscaping. While you don't have to spend hundreds of dollars on your landscaping there are ways to increase the likelihood that you will convince buyers to come inside and look around. Pulling up to a messy, overgrown yard may cause buyers pass by your home and you could lose the potential sale.
Landscaping work for your home should include cleanup and de-cluttering. Yards should be mown, weeds pulled, bushes and trees should be trimmed neatly. In the spring or summer, a few colorful flowers can go a long way in providing a welcoming space. At the very least, adding inexpensive mulch to any flowerbeds and under trees or bushes can make everything look clean and tidy.
If you have kids that use your backyard as a play area, it is important to de-clutter the outdoor toys and sports equipment as well. Pack, donate or store these items and arrange any outdoor furniture neatly and in appropriate areas of your yard. Remove any faded or old furniture and fill any bare spots will seed or sod to improve the look of your outdoor spaces.
Conclusion
You will be glad you invested the "sweat equity" in your property when you start to receive feedback and offers while your home is on the market. The little details can go a long way so take time to do the simple things like de-clutter bedrooms, put matching towels in the bathroom and remove extra items from kitchen counters. These will help buyers feel comfortable in your space, which they will remember when they are deciding to place an offer on your home.
About PropertyGuys.com: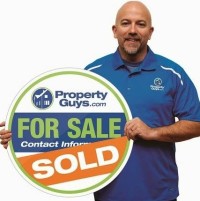 PropertyGuys.com is unlike any ordinary real estate company. In fact, we're not agents or brokers. That's because from day one, we knew we could be something different — something much better. Simply put, we use the power of the internet combined with our experts on the ground in your community to provide a safe and practical way for buyers and sellers to connect while avoiding the high cost of commission. Instead of commission, we charge an affordable marketing fee and collect absolutely no commission when your property sells. You keep the money. That's the PropertyGuys.com way. That's fair right?
PropertyGuys.com Best Kept Secret from propertyguys.com on Vimeo.