Barrhaven bus crash survivor shares his struggles with PTSD and how he found salvation in poetry
|
September 18, 2013 – Images of the worst bus and train crash in Ottawa's history haunted TV screens and viewers. Suddenly and horrifically life as many knew it changed. One moment a beautiful autumn day; the next, unbearable suffering and the stark realization of the magnitude of loss. As David Gibson along with 91 other passengers on the bus discovered, their surreal nightmare of screams, mangled metal, and agony was all too real.
"Into the abyss I try and hide, to protect myself from this scene. Where the tears of fear run down my face. For in my mind I have built this place of anguish…"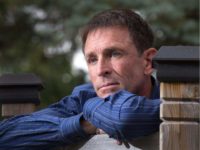 This passage captures the sadness, pain, fear and profound burden of loss in his poem entitled "The Other Side of Reason" Gibson's account of living with what he calls 'trauma on steroids' or post-traumatic stress disorder.
But time passes. Life continues to move on, and most people believe the survivors do too. But who David was is not who David is.
Emerging author David Gibson has battled the inner world of PTSD to find some measure of hope within. Those experiences now appear in his debut book, The Other Side of Reason – A PTSD Diary. His collection of poetry documents his struggle to find his way in a world that has changed without him. A reflective approach to healing makes it possible to discover what matters most in life.
Gibson, a Social Worker and Executive Leader at Sandy Hill Community Health Centre, uses his writing to explore how his journey as a survivor has enabled him to come to terms with PTSD and the new reality of his life. The most poignant passages not only invite the reader into his life, but offer insights on how to live. A print and e-book version is now available via petrabooks.ca
Readers of Gibson's writing will connect with his directness. On the matter of truth in writing, the author responded, "I believe the very fact that the truth impacts people means there is a dire need to confront mental health issues like PTSD. By sharing our experiences we take away any toll for others to walk down the same road".
While this collection of poetry drives Gibson's journey in healing, the deeper implications of his journey shed light on the silent inner struggles many people face in forging a new identity. Some of us just need to go through greater extremes than others on the path to self-discovery and healing.
His book offers a rare glimpse into the world of PTSD, but more importantly a gift to others on finding meaning in the face of any tragedy.  "I have spent many of my moments lost in that void. And I know that many future moments will be consumed by the vast emptiness as well.  But when I can, I want to choose life and meaning. And this is why I am telling my story".
The Other Side of Reason – A PTSD Journal is a book with a difference. It is a book that will offer people hope. It is a book that will educate. It is a book that will enlighten. It is a book about finding courage. It is also a book that will engage others to join the conversation on mental health well-being.
One constant throughout his book is his belief that trauma can show us our ties to others and strip us of our differences.
The trauma may be horrific, but from his perspective, "there is something about the way that people step up and come together to protect each other and fight for a common cause that can remind everyone that they have a place in this world".
Gibson expresses this humility in his writing, acknowledging that until we can finally see one another in the way we were intended — as complete beings who experience the same emotions and deal with the same struggles, we will be forever challenged to see past the stigma of mental health issues like PTSD.
For Gibson, finding meaning lies when we are deeply united no matter the circumstance, but living with the impact of trauma can also help us discover how intricately connected our roots are.  This theme of our 'shared humanity' is the light of hope he heroically holds onto and offers his readers a rare glimpse into an unimaginable world many of us would never dare tread.
Join David for his book launch on November 27, 2016 at the Heart and Crown on Strandherd and Woodroffe from 2-4 p.m.