Two great local events in support of some great causes
|
Over the next two weeks, various groups will be holding special events in Barrhaven to help raise funds for important causes. Listed below are two events taking place this weekend and next. It's a great opportunity to get out, enjoy the fabulous weather and you can even take a shot at dunking a teacher or principal.
Come and enjoy a juicy hamburger or hot dog this weekend to help raise money to support Kelly Ross in the 2015 EPIC WALK the Ottawa Regional Cancer Foundation's third annual EPIC WALK for Cancer Care.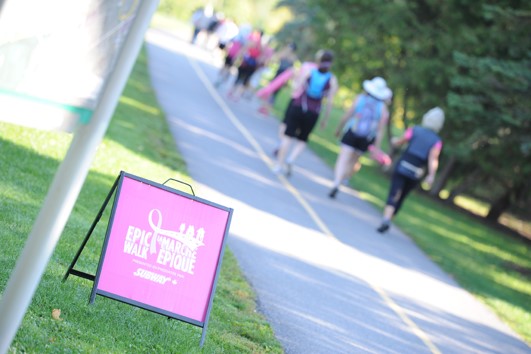 The event takes place on September 26 and money raised supports families in our community.  Every dollar is invested in local cancer care including equipment at the Queensway Carleton Hospital and programming at the Ottawa Regional Cancer Foundation's Maplesoft Centre.

When:     Saturday June 13th, 2015
Time:      11am to 2pm
Where:   Ross' Independent Grocer on Strandherd Drive in Barrhaven.

Our GOAL IS TO RAISE $1000.00 – come for lunch and help us reach our goal!!
You can CLICK HERE to visit Kelly's fundraising page.
Come and dunk a teacher!
St. Luke Nepean Catholic School teachers and principal use their year end activities to not only help thank the school community but to also raise awareness for various charities.
On June 18th, 2015 starting at 5:30pm, Barrhaven's St. Luke Catholic school will be holding their annual year end event to say thank you to the parents and community for having another successful school year.  This year, they will be using this event to also raise awareness for various local and global charities.
The teacher's and principal will be dunked for charity.  Each one will sit above a dunk tank and you can have the chance to try and dunk them by making a donation towards a charity of their choice.  50% of all dunk tank donations will go to the charity that raised the most and the remaining donations will be split between the other charities.
Some of the charities that are being recognized are:
Youth Services Bureau of Ottawa (Tania Facchineri) – 5:30pm to 5:55pm
Y's Owl MacLure (Michelle Sherwin) – 6pm to 6:20pm
The Children's Wish Foundation (Lori Combden) – 6:25pm to 6:45pm
Youth Integration Support program at OCISO (Caroline Brousseau) – 6:50pm to 7:10pm
Canadian Tire Jumpstart program (Alfea Ellacott)- 7:15pm to 7:35pm
Dreams take Flight (Chantal Verheul) – 7:35pm to 7:55pm
Birthing House Penyem Village the Gambia (Anne-Marie Duncan) – 8pm to 8:20pm
Drop by St. Luke Nepean Catholic School on Thursday June 18, 2015 between 5:30pm and 8:30pm to help us celebrate our most successful school year to date and help these amazing charities!