The most convenient tire change service in Barrhaven
|
I personally use this service and strongly recommend them. They come right to your home to install your winter tires – so convenient!
MK Pit Stop – A One-Of-A-Kind Mobile Tire Shop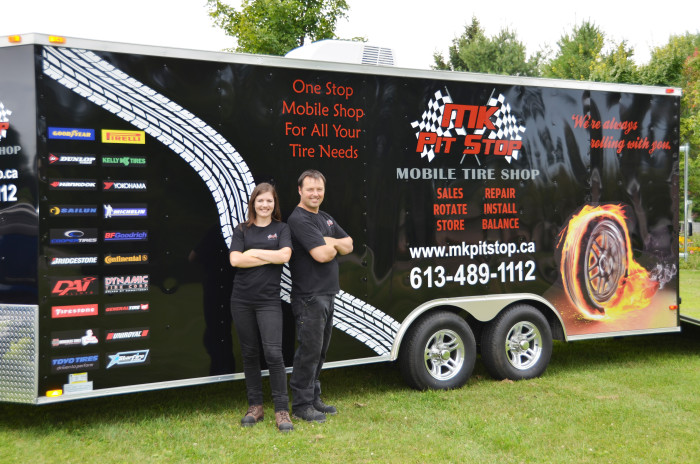 Having proper tires in all seasons is important for safety and comfort. MK Pit Stop is a mobile tire service that will come to a location of your choosing to change or rotate your tires, make sure that they are properly balanced and do any repairs that may be required. MK Pit Stop will even provide off-season tire storage to save you the hassle of lugging your tires to a shop.
This family-owned business is operated by Mark and Kirsten Mooney. Together, they have 25 years of combined experience – Mark as a Certified Master Automotive Service Technician, and Kirsten as a Tire Technician. Their goal is to deliver fast, efficient, stress-free, quality service at the convenience of your doorstep.
MK Pit Stop has an unlimited assortment of tire brands, along with a variety of steel or aluminum wheels to choose from. They are also equipped to do wiper blade installation, light bulb replacement, battery change, brakes and perform a diagnostic scan test for any make and model of vehicle.
Customer satisfaction, trustworthiness, and loyalty are the qualities that MK Pit Stop is built on. They can accommodate your schedule without interfering with your work day. With winter coming up book your appointment with us for your seasonal tire changeover and receive $5 off for first-time customers.
Call 613-489-1112 or email info@mkpitstop.ca.
You can also visit www.mkpitstop.ca for a complete listing of services and special discounts available.