Canadian Army Reserves infantry soldier Raquel Pearl releases single in support of Veterans
|
There's no doubt that the world is a better place today because of the sacrifices of Canadian soldiers and their families. Canada has a proud military history and our troops are the gold standard when it comes to peacemaking and defending democracy and freedom wherever it is threatened.
Tomorrow, Canada pays tribute to veterans who stood in harm's way to defend the freedom we all enjoy today. In communities across the country, ceremonies will be held to commemorate their bravery and sacrifice.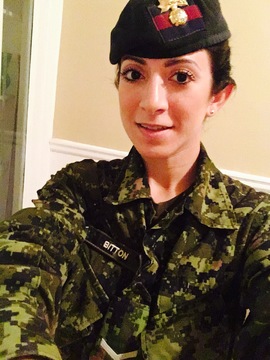 Canadian Army Reserves infantry soldier Raquel Pearl joined the Army in September 2016, at the Canadian Grenadier Guards regiment, with the desire of fulfilling a lifelong ambition to make a real difference.  That has been met a hundredfold with a challenging, meaningful, and exciting career.
Raquel wrote a song called "Far From Home" to shed some light on the brave soldiers who fight on dangerous missions to keep others safe, in honour of Remembrance Day.
With this song, she shows a glimpse into the bravery, sacrifice, and experience of many soldiers. The song tells a story from the perspective of a soldier who's abroad on a dangerous mission, far from the comforts of home, and devoting himself completely, body & soul, to a cause he believes in.
A part-time soldier herself, and hearing the stories of other soldiers and veterans first-hand, this is a topic she feels is important to put on the table. She admires the selfless bravery of those who devote themselves to a cause and seeks to help veterans in crisis. This is why she's donating 25% of the profits from her song sales to an organization she volunteers with, VETS Canada.
VIDEO – Far From Home – by Raquel Pearl
VETS Canada is a non-profit corporation that provides aid to Canadian veterans who are in-crisis of becoming homeless or are homeless.
You can find out more about Raquel Pearl's new song release and how you can support VETS Canada by visiting: