5 Local Products that make the Perfect Mother's Day Gift for Barrhaven Moms
|
Community is at the soul of exhālō
Since its soft opening last June, Barrhaven's exhālō Spa has spread beauty & pure joy throughout Ottawa as the city's only full-service Day Spa also featuring a healing Salt Therapy Room. Later last August when they celebrated their official Grand Opening, it was one of Barrhaven's largest crowd turnouts in new business history, according to the local BIA and Barrhaven Independent Newspaper.
It is not surprising that the community has embraced their #dreamteam so much, as these highly experienced Aestheticians, Hairstylists, and Wellness providers clearly know what they're doing – and they themselves embrace our community back in a big way by attending and supporting numerous local charity events like Barrhaven's Santa Clause Parade, Canada Day celebrations and more. They gladly host local high school co-op students to mentor and educate them and even the majority of the staff live and work here in Ottawa west, which has a positive impact on our local economy and community. Sundays have also been coined "Family Day" when children are even welcome into the Spa for mini-services or with breastfeeding Moms! Even as they expand, they often seek out other local beauty professionals to join their team through postings in local Moms groups first.
Community is clearly integrated into the soul of exhālō, and one of our favorite features this Spa & Salon has incorporated is to represent and highlight the many incredible locally made brands they've sourced out. Moms supporting Moms so to speak! exhālō takes pride in using organic, vegan, ethically sourced and natural products throughout their services; from Eminence Organic Skincare to So Pure Hair products, and also now proudly features several locally made products that meet their high expectations of quality.
5 Locally Made Wellness Products that make a perfect Mother's Day gift for Barrhaven Moms

It's not a secret that many deodorants have harmful chemicals in them – but not this one! This spunky local Mom; Julie, created a product that is for anyone that sweats or wants to smell fresher (so that's everybody – right?). It's a deodorant so it won't prevent you from sweating but it will help you feel drier. Although this product is geared towards "down there" you may use it as a deodorant for underarms and breasts (keeps your bra fresh as well). Oh, and did we tell you it's 100% natural & safe, plus made right here in Barrhaven?
$24
The mission of Pure Heart Essentials is to provide all-natural and effective beauty products that are free of harmful parabens, phthalates, sulfates, artificial scents, colors and petrochemicals. All of the ingredients in every product have been researched at great lengths to ensure they are the safest possible and purest on the market. Most importantly these handmade products are made by Debbie; a Mom & Grandmother who's skin softening soaps are lightly scented with pure essential oils, and the Shower Steamers take you back to a Nordik-like shower experience at home. YES….
$8 Soaps, $15 Shower Steamers
These all natural, butter-based body scrubs are infused with gorgeous essential oils, plant botanicals, rich oils and natural exfoliants. Skinny Dip Scrubs were inspired by summer days on the Rideau Lake and are handmade by Laura, a fur baby Mom to a sweet little Chihuahua named Millie. Her Scrubs are designed to use in the shower and leave your skin feeling hydrated & smooth, and your senses enlivened with beautiful essential oils. Some of our fav's? Lemon Grass & Poppy Seed, Rosemary & Mint, Grapefruit & Hibiscus, Eucalyptus & Lemon, exhālō's Custom Blend …..oh we can't decide – just get them all!
$18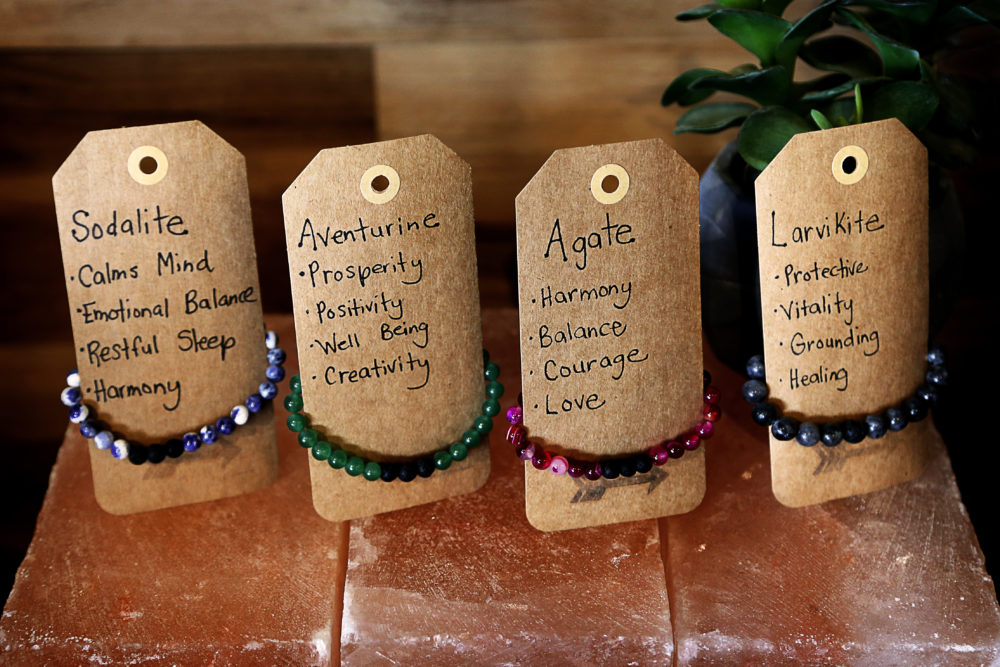 Each of these gorgeous bracelets is handmade with love from unique, crystal gemstone beads and every bracelet includes a lava stone or wood bead where your essential oil of choice may be applied. Your beautiful bracelet will then happily hold the natural scent all day, bringing you back to stress relief, relaxation or energizing you as desired. Designer and Mom on-the-go Sheila, often loads her own Bracelets with uplifting Citrus oils to power through her busy days! Can we just add that the gemstones themselves are also designed to bring purpose and direction to you as well – awesome right?
$25
This single working mom discovered the wonderful world of handmade bath and body products when trying to find a natural product for her daughter's bath time. It all started out with some homemade bath bombs for her girls when Mom Dalia quickly discovered they were not only great on her daughters' sensitive skin but a mix of fun for her kids and luxurious for herself during the little bit of downtime she does carve out. Add a few of these Mini Bath Bombs to your bath and watch as each one bubble and fizzes when they touch the water – so silky and fun (yes, for all ages!)
$15
Spreading joy through incredible Spa & Hair Treatments
At exhālō Spa, the focus is on spreading joy through incredible Spa & Hair Treatments, and for clients to feel outstandingly pleased with their experiences. The highly skilled staff and additional offering of Halotherapy clearly set them apart and enhances a complete Day Spa experience – and we highly recommend you try it!
You can benefit not only physically from the anti-viral and healing properties of inhalation salt, but also gain mental clarity and improve anxiety and/or depression inside the softly lit, Himalayan Salt Room. For those unfamiliar with it, Halotherapy is the use of dry salt vapor to treat respiratory ailments, skin irritations, and combat mental lethargy all while you relax and simply breathe. Salt Therapy is also 100% natural, drug-free and non-invasive so it's safe during pregnancy and for the elderly and children too!
Now rated Five Star, exhālō is actively engaged on social media channels. @exhalospa is active daily on Instagram, Facebook, and Twitter. Their #PlayToWin series is quite popular as participants commenting have a chance to win products & service as well! Be sure to visit and follow this West Ottawa Board of Trade's recent recipient of New Business Of The Year! As they say …."Simply exhale, we've got you".
To learn more about exhālō please visit exhalo.ca. We should also mention that exhālō has gift cards available should you wish to pamper mom with a day at the spa for Mother's Day, and don't forget to check out the new monthly promotions and special events held in the salt room on exhalo.ca.
The preceding post was sponsored by exhalo Spa. We wish to thank them for supporting The Barrhaven Blog.