Ithaca NY – The perfect 3 day getaway for Barrhaven residents
|
Ithaca is mostly known as the home of Cornell University. But it also happens to be home to some of the most beautiful hiking trails in the northeastern United States. But that's just the start of the story. If you enjoy great hiking, amazing restaurants and lively entertainment, you're only 4 hours away from a vacation you'll never forget.
About Ithaca New York
When people describe Ithaca, they use two very popular slogans. The first is Ithaca is Gorges. This is because the city is surrounded by some of the most beautiful gorges and waterfalls you'll ever witness. All are located within a short 30 minute drive of Ithaca, and some are even located within the city itself!
The second slogan is that Ithaca is "10 square miles surrounded by reality". Visiting Ithaca is almost like stepping back in time. The city has a very relaxed and progressive feel to it, and if you sense a 60's flower power vibe while walking the streets, it's not your imagination. This is probably where hippies come to retire! The whole place just feels very happy, safe and friendly.
The Finger Lakes State Parks
The main attraction of Ithaca are the state parks. Each park offers easily accessible hiking for all levels of enthusiasts. You can choose easy trails, or challenge yourself with more difficult hikes. The choice is yours, but regardless of which option you choose, I can promise you'll be in awe of the amazing sights and sounds you'll experience.
Entrance fees for State parks range from $7 to $8 per vehicle. This fee allows you to visit as many state parks as you want during the same day, therefore plan to visit at least two per day to save money.
It's always a good idea to bring sunscreen, bug repellent and an umbrella in the event of bad weather.
One note of caution. If you're travelling with children, supervise them closely. Many of these parks have narrow paths, steep hills and fast flowing water. Hand holding is strongly recommended in areas with steep drops.
Walkins Glen State Park
This is our favorite state park. From Ithaca, head west along highway 79 until you reach the town of Walkins Glen. Signs are posted in town to help you locate the park entrance.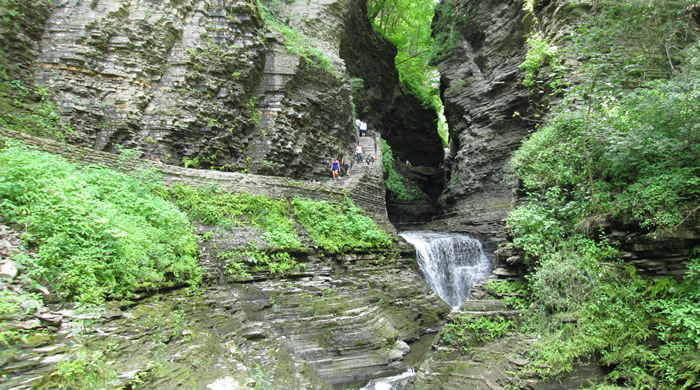 Walkins Glen is an easy to hike park that features a stone pathway that weaves itself into an amazing mountainside crevice. The path features tunnels, bridges and lots of waterfalls. In fact, you'll often find yourself walking behind waterfalls! What we love about this hike is that you never quite know what's around the next corner. A real adventure for the whole family.
We would suggest visiting the park first thing in the morning, as it tends to become quite crowded in the afternoons.
Duration: 1-2 hours
Difficulty: Intermediate
Taughannock Falls State Park
Taughannock Falls State Park is one of the outstanding natural attractions of the Northeastern United States. Taughannock Falls plunges 215 feet past rocky cliffs that tower almost 400 feet above the gorge. Think of these as a narrower version of Niagara Falls.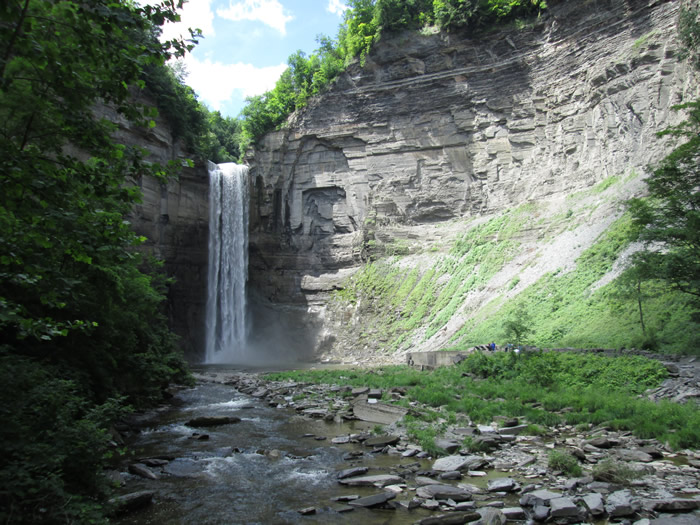 From Ithaca, simply head north along highway 89. The state park is about 15 minutes from downtown Ithaca. When you first arrive, drive past the parking lot and take the first left marked as the falls overlook. This leads to the top of the mountain where you can get a breathtaking view of the falls from the top of the gorge.
Return to the park parking lot for a wonderful (and very easy) 3 kilometer hikes to the base of these spectacular falls. Most people walk the trail, but you'll also see some people hiking on the shallow riverbed. Swimming is available across the street in Caluga lake.
Duration: 1 hour
Difficulty: Easy
Robert H. Treman State Park
The Robert H. Treman State Park is located 15 minutes south of Ithaca on highway 13. The park has two entrances, one at the bottom of the park, and one at the top. For those seeking a challenge, park at the bottom and hike the Gorge Trail to the top. Be warned, this is a steep and challenging hike along a marked trail that runs along many high cliffs.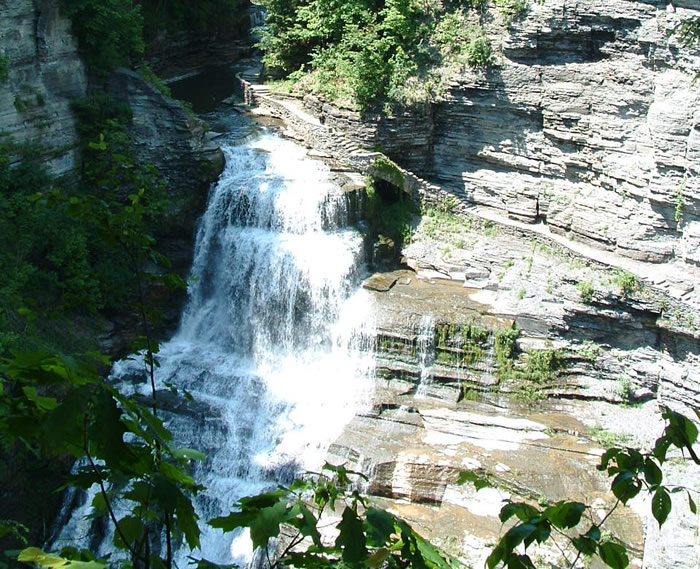 For those seeking a more leisurely hike, head to the upper parking lot and hike down to the 115 feet tall Lucifer Falls. The upper portion of this park is our second favorite of all the parks. The gorges, waterfalls and natural pools located along this path are truly breathtaking.
For those seeking a break from the heat, swimming at the base of a beautiful waterfall is available off the lower parking lot.

From the bottom:
Difficulty: High
Duration: 2-3 hours
From the top:
Difficulty: Easy
Duration: 1-2 hours
Buttermilk Falls State Park
The Buttermilk Falls are located 10 minutes from Ithaca on highway 13. The park features a stunningly beautiful hike up along a mountainside gorge that features several waterfalls and natural pools. But be warned, regardless of whether you start your hike from the top or bottom of the mountain, what goes down must sooner or later head back up. But with frequent stops to enjoy the spectacular waterfalls, you won't find the climb to exhausting.
Difficulty: Intermediate
Duration: 1-2 hours
Ithaca Falls
There are two sets of beautiful waterfalls right in downtown Ithaca. Simply ask any local resident or hotel staff for help in locating them. What we enjoy about these falls is that getting there is half the fun. One thing you'll notice about Ithaca is that very few people have front lawns. Almost every home has opted for a front garden instead. We really enjoy walking down Aurora street and taking in all the unique botanical creations.
The Restaurants
Nothing builds up an appetite like a full day of hiking. And when it comes to great dining, Ithaca doesn't disappoint.
Our favorite (and most romantic) dinner spots is the "Just a Taste" Tapas restaurant in downtown Ithaca. If the weather's nice, opt for a table in the outside courtyard. As for the food, all I can say is be prepared to be amazed. This is one of the best restaurants I have ever experienced. We were able to have a nice dinner with wine for under $65. Highly recommended.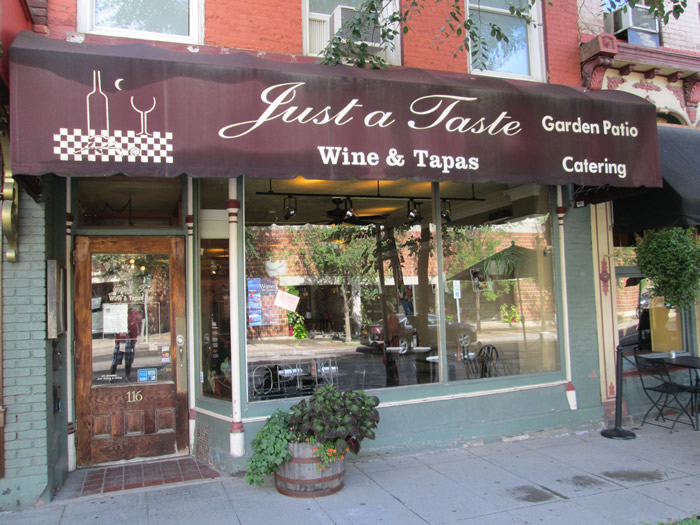 Located right next to "Just a Taste" is the Mahogany Grill. This is a great spot to enjoy afternoon drinks with great food on an outdoor patio. It's also a great choice for dinner and breakfast. The service is top notch, and the prices very reasonable.
Another great pick is Madeline's restaurant. Great food, a superb ambiance and attentive service make this a great choice for dinner.
Our last recommendation isn't a restaurant at all, but the Ithaca Farmer's Market. Located a short drive away from Downtown Ithaca, the market features locally grown fruits and vegetables, in addition to some wines and baked goods. There are several kiosk with prepared meals that you can purchase and snack on while visiting the market. A must see!
Arts & Culture
Ithaca is just teeming with arts and culture. We strongly recommend being there on a Thursday evening to attend one of the free concerts on the Ithaca Commons (the Commons is a pedestrian mall similar to Sparks street in Ottawa). These free concerts showcase local bands and include a wine and beer garden that features local wines. I cannot put into words how much fun these concerts are. Let's just say the crowd is as much fun to watch as the bands are! The following band called the Destination is playing this Thursday.
We also strongly recommend catching a live play at the Hangar Theater if time permits. Last year they put on a great production of "The Rocky Horror Picture Show", and this year they're putting their own spin on "Little Shop of Horrors". A great way to relax after a full day of hiking.
Cornell University
We strongly recommend a drive up to Cornell University if you can fit it in your schedule. The campus is rather quiet during the summer months, which makes it an ideal time to take in the architectural wonders of this beautiful campus.
One of our favorite stops is the Herbert F. Johnson Museum of Art. The museum is known to have one of the finest collections of art in upstate New York and is recognized as one of the most important university museums in the United States. Go to the top floor for an outstanding view of Ithaca and Caluga lake.

Another fun activity is to hike around Beebe Lake which is located adjacent to the Cornell campus, or visit the Cornell University Botanical Gardens. There is so much to do in Ithaca, it's hard to fit it all in a 3 day visit!
Getting there
Take the 416 south to the 401, then head west towards Toronto. Exit at the Thousand Island Bridge and head over to the American side of the bridge. Follow highway 81 south until you reach the highway 90 New York thruway. Hop onto highway 90 (Buffalo direction) and exit at exit 41. From here, head a short distance south on the 414 until you run into the 318. Head east on the 318 until you hit the 20. Turn left of the 20, then immediately turn right on highway 89. This will take you on a stunning countryside drive along Cayuga lake, which will end in downtown Ithaca.
IMPORTANT NOTE: 
I strongly recommend the use of a GPS device to navigate both downtown Ithaca and the surrounding area. Downtown Ithaca can be very daunting on a first time visit.
Where to stay
On a budget:
Stay on the outskirts of Ithaca near the big box retail outlets. Rooms are in the $75 to $150 range, and very close to both the Buttermilk and Treman State Parks.
Moderate:
The downtown Hilton hotel is our favorite spot. Clean, very comfortable rooms that are walking distance to most restaurants and the Ithaca commons. Free parking is a nice bonus. $179 per night.
CLICK HERE for a listing of Ithaca NY area Hotels
IMPORTANT NOTES:
Ithaca commons is under re-development. Stores are open, but the street looks like a typical construction zone. Not visually appealing, but work is almost complete.
If possible, try to visit between Tuesday and Thursday in order to take advantage of lower room rates and the Summer Concert Series (which have been moved to the State Theater this summer)
Ithaca is all about the great outdoors. Try to head down when the weather is clear. Waterfalls can run dry during excessively dry summers. If you hit a rain day, visit a museum, see a play or head on over to one of the many local malls.