Meet the candidates: Nepean Conservative party candidate Brian St.Louis
|
The Barrhaven Blog will be offering every local candidate the opportunity to introduce themselves and their party platforms to the community. In today's Q&A post, we feature Nepean Conservative candidate Brian St.Louis.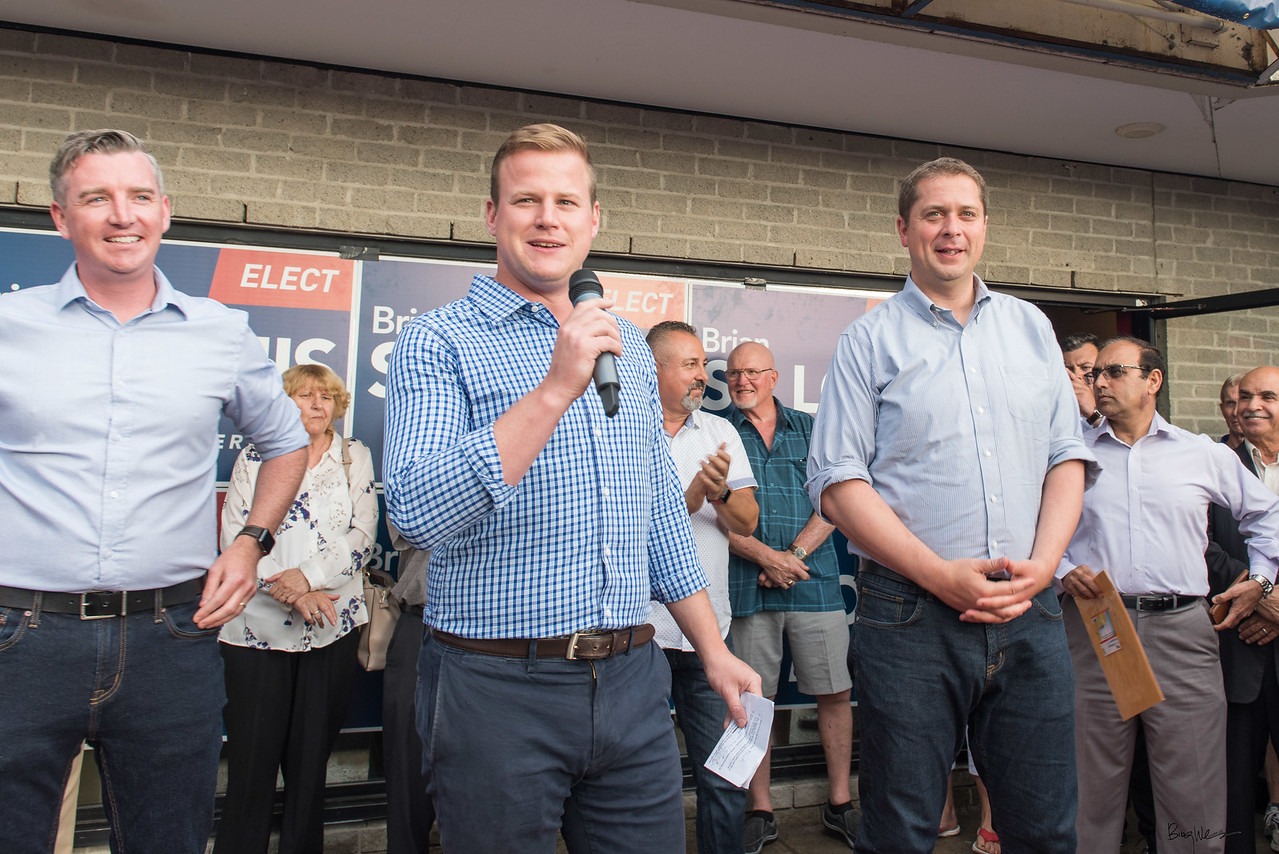 Congratulations on your successful campaign and winning the federal Conservative nomination for the Riding of Nepean. Tell us about your path to victory, and about your roots in the Barrhaven community.
Our path to victory was simple: hard work, honesty, and integrity, alongside real solutions for the people of Nepean. People here are seeking a more authentic sort of politics – one that puts their needs and issues first. I believe that our team was successful because we consistently demonstrated that Nepean comes first.
It was our fresh approach that allowed us to sign up new members. We also welcomed back returning supporters who have grown frustrated with the lack of local leadership on important issues and a Prime Minister incredibly out of touch with regular Canadians. I expanded the pool of voters in the Conservative nomination race and will do the same during the general election.
I was born and raised in Barrhaven and after spending some time in Toronto, am now raising my own family here. Our community is a great place to live, work, and grow. I want my daughter to be able to enjoy all that Nepean has to offer – just like I was able to.
You've written that the Conservative party is at a critical point in their future – about the need to broaden the party's appeal, especially with younger voters and millennials. What policies do you feel will attract younger voters to the Conservative party?
First of all, I think young people are rightfully frustrated with the old approach to politics. They are tired of electing politicians who talk a good game but fail to deliver – ultimately leaving young people further behind. The Conservative approach is to engage honestly and constructively with young people on the issues that matter to them. They can trust that our party will live up to its commitments and get results.
Liberal policies are failing young people. Youth unemployment is climbing, wages are stagnating, the cost of living is rising, and homeownership is becoming more and more unattainable. Meanwhile, rather than providing relief, the Liberals have raised taxes and left young people behind. In contrast, the Conservative Party has a concrete plan to help young people get ahead.
Conservatives will scrap the carbon tax, which will let young people keep more of their hard-earned money. Conservatives will champion economic policies that ensure young people have the skills and opportunities they need to succeed, and that better and higher-paying jobs are available. Conservatives will responsibly balance the budget and stop indebting the next generation. And Conservatives will build the critical infrastructure of the future while protecting our environment with a real environmental plan (more on this later).
I am 32 years old. I can relate to the everyday challenges that young people here in Nepean are facing and I also understand the desire for a fresh approach to politics; one that is built on trust and focused on results. I am running in this election, alongside my Conservative colleagues, to offer that approach.
We live in a Nordic climate, in the world's second-largest country in terms of geography. Heating our homes and commuting aren't luxuries – they are necessities. Can the middle class and Canadian businesses afford a carbon tax? Will a carbon tax actually make a measurable difference when it comes to global CO2 levels?
The Liberal carbon tax is not an environmental policy, it is a revenue policy from a tax-and-spend government. The carbon tax is failing to lower emissions. In fact, a secret memo prepared for Liberal Environment Minister Catherine McKenna estimated that the carbon tax would have to go as high as $300 per tonne for Canada to meet its emissions targets. A Parliamentary Budget Office study also confirmed that the carbon tax would need to go up substantially if Canada wants to reach Paris targets. Canadian families and businesses cannot afford Justin Trudeau's ineffective carbon tax.
Andrew Scheer and our Conservative team have put forward A Real Plan to protect our environment. The Conservative plan gives Canada the best chance of meeting our Paris targets – without a costly carbon tax. I encourage everyone to check out https://arealplan.ca/ for more details and a list of the commitments it makes.
The middle class is struggling. Salaries have not kept up with inflation, and for many of our younger readers, the dream of homeownership is often beyond reach. What policies will the Conservative party put forward to help the middle class prosper Canada?
Under Justin Trudeau, taxes have gone up but wages have not. Trudeau likes to say that his deficits are about "investing in the middle class". Unfortunately, we have the deficits and the taxes but not the results. The middle class needs real solutions, not rhetoric. A Conservative government under Andrew Scheer would responsibly balance the budget while making life more affordable.
We are offering concrete initiatives to help the middle class get ahead. We will reduce the tax burden on middle-class families by scrapping the carbon tax, eliminating the GST on home heating bills, and removing income tax from parental leave benefits. We will bring in targeted tax relief to help middle-class Canadians with their own unique circumstances. Our party will get important projects built so Canadians can save time and money. And we will reduce red tape and open new markets so Canadian businesses can grow and create more good-paying jobs right here in Nepean and across the country.
Myself and our entire Conservative team are excited to share even more ideas as the campaign unfolds. The Conservative Party is the only party that understands the realities facing middle-class families. On October 21st, Canadians can vote out an out-of-touch government and replace it with a results-based government in tune with their needs and priorities.
Community safety is important to residents of Barrhaven and Nepean. What are your views on gun control? Will your campaign or party accept donations from third-party groups looking to roll back Canadian gun control regulations?
My campaign will not accept any donation from a third-party group. It goes against my values and beliefs and would contravene Elections Canada's financing rules. Some candidates from other parties may allow special interest groups to influence their decision-making, but my focus will continue to be on delivering real results for the people of Nepean.
On the issue of gun control, my position is straightforward. I believe we must have a system that punishes criminals while respecting the rights of law-abiding hunters and sport shooters. We need to get firearms out of the hands of criminals without treating ordinary gun owners like they are the problem. Unfortunately, the Liberals have misdiagnosed the issue; rather than crack down hard on illegal firearms being used by gangs and organized crime groups, the Liberals have wasted valuable public safety resources targeting law-abiding gun owners.
The Conservative Party has a tangible plan to keep guns and gangs off our streets. A Conservative government would institute a lifetime firearm ban on violent and gang criminals while introducing strict penalties for selling guns to prohibited users. A Conservative government would also ensure that criminals who knowingly possess smuggled guns go to federal prison. We will tackle "straw purchases" so that legally purchased firearms do not end up in the hands of criminals. We will create a Firearms Smuggling Task Force within the CBSA to identify smuggling routes and ensure that smugglers and those employing them are put behind bars where they belong. Our plan would end automatic bail and revoke parole for gang members, as well as introduce new sentences for violent gang crime. We will also give police the tools they need to better solve and prevent gun crime. These – among other measures – are tangible, common-sense solutions that make our communities safer.
If elected, what will be your top two priorities at both the riding and federal levels?
My top priority for Nepean will be to ease traffic congestion. We need infrastructure built and I will be a strong advocate and work across our community to get this done.
Another major priority for me is ensuring that every single federal public servant is getting paid properly. The Phoenix Pay System has been an unmitigated disaster and we need action to get this solved. I will work tirelessly to address public servants' needs and help them thrive. We need to do a better job of listening to their feedback and ideas so we can improve government services.
On the broader federal level, I will immediately get to work on making life more affordable for all Canadians. I will support and champion lower taxes as well as other measures that let Canadians keep more of their hard-earned money. Canadians should be able to get ahead rather than just get by.
Another important priority for me is to help create the conditions for small businesses to invest and grow. That means advancing skills training, reducing red tape, and ensuring federal programs meet their objectives. Justin Trudeau was wrong when he implied that most small business owners are tax cheats. These are hard-working, entrepreneurial Canadians who contribute enormously to our economy here in Nepean and across Canada. I will always stand with our small businesses.
On a more general note, my approach to politics will continue to be collaborative and community-centered. If elected, I will quickly sit down with officials and community leaders at all levels to deliver results for Nepean. Nepean needs a fresh voice – one that puts you first.
How can our readers learn more about your platform online?
Nepean voters can learn more about our platform and where we stand on the important issues by visiting brianfornepean.ca. You can also follow our campaign by going to www.facebook.com/brianfornepean or www.twitter.com/brianfornepean.
I read and respond to emails and comments, and I am best reached at Brian@BrianforNepean.ca.
We will continue bringing our platform directly to Nepean voters right at their doorsteps. Looking forward to meeting you if we haven't already!