5 Tips to Extend the Life of Your Appliances
|
Ottawa and Barrhaven Appliance Repair
At Doctor Appliance Ottawa, we have over 140 5-Star reviews on Google for our appliance repair services in Barrhaven and Ottawa. That's because the residents of Ottawa and the surrounding areas recognize Doctor Appliances' honesty and courtesy.
The owner and appliance repair technician, Ilya Shifrin is upfront regarding repair and maintenance advice. If an appliance is not worth fixing, Ilya and his team of qualified technicians will honestly say so, instead of wasting anyone's time and money. Our approach to appliance repair is unlike no other company because we are a small family-run business.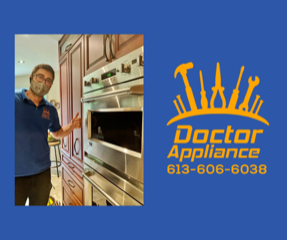 In this blog post, we offer 5 free tips on how to extend the lifetime of your appliances.
If you have pets, consider doing regular appliance maintenance to extend the lifespan of your household appliance. We all love our furry friends, but they do come with greater responsibilities. If you have a pet, it's particularly important to perform regular maintenance on your fridge, dryer, and washing machine.
On a fridge, the condenser coils need to be regularly cleaned to ensure optimal performance. As well don't forget to leave an inch or two behind the fridge to allow for proper air circulation.
A dryer easily accumulates lint, hair, and other debris. This debris can cause the moving parts of your dryer to cease. Hair easily gets caught in the wheels and can ruin the appliance. Be sure that the lint screen is cleaned before every use. Consider more frequent maintenance with an appliance specialist.
In a washing machine, execs hair gets accumulated in the pump, and if there is a filter, there too. If the pump or filter gets clogged the washing machine will not work.
Don't perform the self-clean option on your oven! We always tell our customers to avoid using the self-clean option on their ovens. Even though it's recommended by manufacturers, the self-clean option preheats the oven to 800 degrees Fahrenheit for 3 to 3.5 hours. This is just too hot for the electrical and mechanical parts inside the oven. We often see wiring issues after customers use the self-clean option on their ovens because the heat creates too much wear and tear.Instead of using the oven's self-clean option, simply clean the oven with baking soda and vinegar. Spread baking soda throughout the oven and let it sit. Then, add vinegar to a spray bottle and spray vinegar over the baking soda. This cleaning method is much safer for the lifespan of your household appliance.
More useful tips…
1. Allow ventilation for appliances that use water.
Particularly for your washing machine and dishwasher, after usage, be sure to leave the door slightly open to allow for adequate ventilation to prevent mold. Our appliance repair technicians have seen unnecessary damage caused by not ventilating water after using the appliance.
2. Don't overload your washing machine!
Regardless if you have a front loader or a top loader, you should never fill more than half of the tub with clothes. While it might be more inconvenient to do smaller loads of laundry, it will extend the lifespan of your washing machine dramatically. These appliances are meant to perform a task but are not overachievers. Respect the appliance, and it will respect you! Also, don't forget to remove all items from clothing pockets as these items can damage the washing machine door seal, puncture the hose or destroy the drain pump.
3. Load the dishwasher properly.
Be sure that all the spinning arms can move freely and are not being blocked by any utensils or dishware. Also, clean out the dishwasher filter and the spray arms from time to time. It's important to clean off large particles of food from dishware before placing it into the dishwasher.
Honest Appliance Repair
Do you have a specific appliance repair question? Are you not sure if it's worth repairing your older appliance? Call us at 613-606-6038 or send an email to info@doctorappliance.ca to reach an honest customer service representative about your appliance issue.
On a daily basis, we have technicians in Barrhaven ready to tackle your appliance repair needs. We offer same-day service and look forward to helping you extend the lifespan of your beloved household appliance!
Visit our website at doctorappliance.ca for more information