Barrhaven Mixed Slo-Pitch Baseball League (BMSPL) registration is now open
|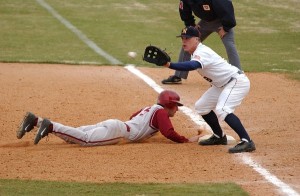 Now entering our 21st season, the Barrhaven Mixed Slo-Pitch League (BMSPL) is one of the most established recreational softball leagues in Ottawa.  We are a recreational league with around 44 teams every summer.  We run three separate divisions to try to ensure that teams are evenly matched and can have close games, even if it is all for fun.  We play every Friday night from May to August, with an added mid-season tournament in June and a year-end tournament in August.  As a player in the BMSPL, you can expect to play between 21-24 games at a minimum every year.
Our players are guaranteed to have equal playing time, regardless of their level of ability.  While some players in the league might be a bit more competitive than others, we're just here to facilitate a friendly and fun game every Friday evening.  Our players are loyal, with many playing over ten years in the league.  They are fixtures on our diamonds and we are so grateful to see them back every spring.  That doesn't mean that new players aren't welcome—of course they are!  We're always looking for new players to join us to help grow our softball community.
There are a few things that set us apart from other leagues.  Every team has a sponsor whose logo is proudly displayed on the back of the team shirts, which are provided by the league.  Thanks to the amazing business community in Barrhaven and the surrounding area, we have been able to give teams their own sponsor and shirts, so that they aren't trying to find their own sponsor or finding a printer for their team shirts.
In February, we open up registration to our loyal previous year players.  We do this so they can secure a spot for themselves and their team.  On March 1, we open public registration at $125 (plus HST) and start to welcome new players to our league.  On April 1, our late registration period begins and the cost is $140 (plus HST).  Our goal every year is to have almost all of our players signed up by March 31, so that we can get all of our t-shirts printed, team rosters made up and schedule created.  Once we get into April, it can be a rush to the finish line before the season begins!
So, why should you join the BMSPL?
It is a great way to get some exercise every week in a fun environment
The social atmosphere is a great way to decompress after a long week at work
Why not surround yourself with a great team and have a few refreshments after the game
If and when the Adult Fitness Tax Credit becomes reality, we will be ready to offer receipts for members of our league
If you've never played softball or you haven't played since you were a kid, everyone at every talent level is welcome.  We'll find the right team at the right level for you
Convinced?  Here's how you join.
Visit our website:  http://www.bmspl.com/sign-up.html
Follow the process and send us an e-transfer or write us a cheque to complete your registration
Questions?  We want to hear from you! Email us: bmspl@bmspl.com or call us at 613.912.9413