Barrhaven child with Cancer looking to help others with the help of Candlelighters
|
The following is a guest post from a Barrhaven family who's child has developed childhood cancer. Colin is a brave young man who truly appreciates all the support he's been shown and is now looking to pay it forward by helping other families dealing with this terrible disease.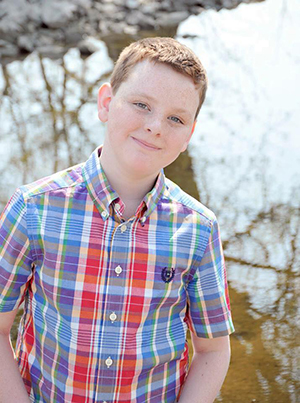 On a Sunday evening in April, Colin was relaxing at home with his family. He crossed his legs and told his mom that something felt swollen. By Tuesday he saw his pediatrician who referred him to CHEO. After multiple blood tests, ultrasounds, CT scans and an MRI the Dr's brought the news that there was indeed a 6 cm 'c' shaped mass curled around the lymph node in Colin's groin. After 2 biopsies and a bone marrow sample, it was confirmed that the tumor was malignant. Colin has Acute precursor B cell lymphoblastic lymphoma.
We were all devastated. How could this happen to this vibrant, almost 12 year old boy? He had been a childhood cancer champion in the past, raising money with lemonade stands for another family who has a child with cancer. Cancer. What an awful word.
We have a diagnosis and we have built an army of support for Colin. That army grows every day! We want to give back. Colin wants to give back. Candlelighters is an amazing organization that lifts up families of cancer patients. They take care of everything from parking a passes to iPads to the Suite Seats program that gives children with compromised immune systems the chance to see an Ottawa Senators game.
We started a bracelet campaign. We expected to raise a few hundred dollars. Within one day our friends and family from across Canada had donated $1500!! We are blown away! Colin does indeed have an army and we are so blessed to have each and every one of you supporting our family during this unimaginable journey.
2 years and 4 months. That's how long Colin has to fight. That's his treatment schedule. We will be by his side every single step of the way. Thank you all for lifting us up. There aren't enough words to really describe how we feel about you all.
Bracelets will be distributed at Colin's elementary school (Mary Honeywell Elementary School) where his sister and cousin attend and his current school, Cedarview Middle School.
We are opening this group up to the public to see how far we can go! Please feel to share with your networks. Together we CAN make a difference!
Please take a minute to visit Colin's Army Facebook Page
Thank you!