Barrhaven House Cleaning Company Offers a Different Experience
|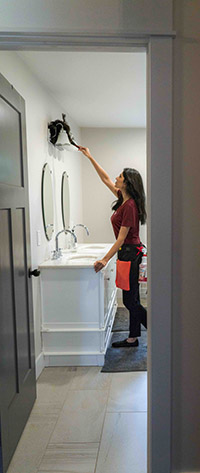 It's an experience everyone can relate to wanting: walking in the door after a day at work or vacation and seeing that the house is sparkling clean.
Sounds wonderful, right!
Hiring a house cleaning service can make this happen on a regular basis – weekly, biweekly, or every 4 weeks. That's an easy solution. However, choosing a service to trust in your home can be a daunting decision. We understand that.
Since Concierge Home Services first opened in Ottawa in 2001, we've heard countless stories of house cleaning gone wrong. Stories like items going missing, damage to the home and no insurance policy to repair it, and the scary feeling of being ghosted by people with your house keys and alarm code. Our clients choose us so they never have that experience. What makes us different from every other company in Barrhaven? We can explain.
First of all, we use only the very best tools, supplies, and equipment. For example, we use a 4-stage HEPA filter backpack vacuum. These can remove 99.97% of particles as small as 0.3 microns. How small is that? A human hair can be as thin as 50 microns – so our vacuums remove particles smaller than you can see. Our mop system is professional-grade, with pads containing 17% more microfibre than retail mops. Our cleaning kit also includes different brushes designed to clean specific areas. Our tile brush, grout brush, and detail brush have bristles and shapes best suited for all those little hard to reach places. We have the tools to clean grout, sink rims, and the spindles between the kitchen chair.
Second, we are educated about the science of cleaning.
We understand the pH scale. We know that many products bought at the store can cause damage to the finish of hardwood, granite, and marble. We've seen this when homeowners call us for a quote after they notice the etching of their bathroom counters or the labels scrubbed off their oven knobs. They have realized that the well-meaning person they had cleaning their home was using damaging products and harsh methods. They are ready for a professional service and are pleased to know that we use a neutral pH cleaner for most surfaces in the home. We do have cleaners formulated to safely cut through soap scum, mineral deposits, and food scraps. We also have stainless steel cleaner to get a shiny finish on appliances.
Bottom line? Our cleaners are using quality tools and products you can't buy at the store.
Third, we understand that cleaning professionally requires a different approach. We don't clean for clients the same way we learned to clean at home. For our clients, we use tried and true methods recognized by the cleaning industry as the most effective. Our staff are trained to follow a cleaning routine which is highly efficient, with no wasted steps or motions. In fact, our standards and methods are so best in class that we are accredited by the Association of Residential Cleaning Services – the only company in Ottawa to achieve this!
Fourth, we use technology to communicate with our staff – tracking location, time, and updates. Our clients really appreciate this when booking pet sitting and home checks. If they have a special request like taking out the recycling bins, we can update their file so their sitter has that information at the next home check or pet sit visit.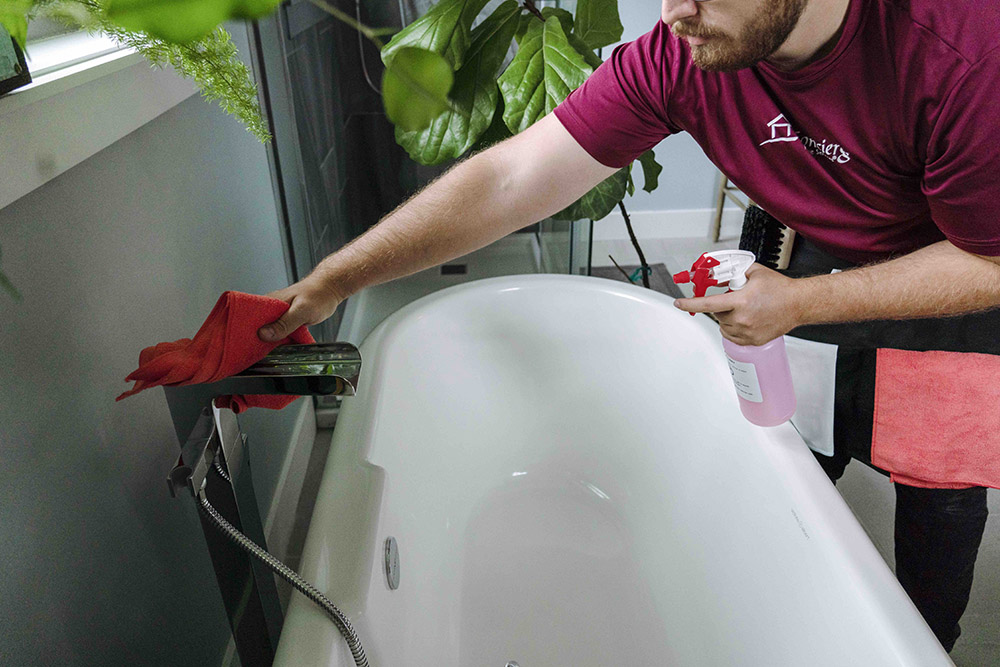 Oh, that is another reason which makes Concierge Home Services so special – we can also feed your cat and water your plants while you are away! If you are away for a weekend, a week, or a snowbird gone for the season, we can schedule visits which will meet insurance requirements and give you peace of mind. Over the years we've looked after guinea pigs, fish, birds, rabbits, hamsters, geckos, and a chinchilla! Our clients value being able to communicate regularly about plants, pets, the mail, or anything else relating to their home. Our system even lets us email photo updates after each visit, so you can see your cat lounging on the couch, or how much mail is piling up while you are gone!
Security is important at Concierge Home Services. All staff have had background checks, are fully insured, and bonded. Our insurance policies cover commercial general liability and workers' compensation. Keys are tagged using a system that identifies it to us without including your name or address.
Concierge Home Services has been recognized with various awards over the years. For example, the Better Business Bureau of Eastern Ontario awarded our company with their prestigious Torch Award in two separate years. All our offices are accredited with the BBB and carry an A+ rating. This reflects our company values and commitment to communication, quality, and integrity. Learn more about us online:
www.conciergehomeservices.com
www.facebook.com/ConciergeHomeS
www.instagram.com/conciergehomeservices
twitter.com/conciergehomes
Reach out today by calling our Barrhaven office at 613-839-1101 or email barrhaven@conciergehomeservices.com