Barrhaven Restaurant Review – Stoneface Dolly's
|
I must confess – I've been wanting to dine at Stoneface Dolly's for a long time now. I'd heard so many positive reviews with respect to their Preston street location, that I just had to try their new Riverside South location. But every time an opportunity presented itself, it seems something always came up to scuttle our plans. But we finally got all our ducks in a row and were able to finally experience this new dining destination that's just a stones throw away from Barrhaven – and it was well worth the wait!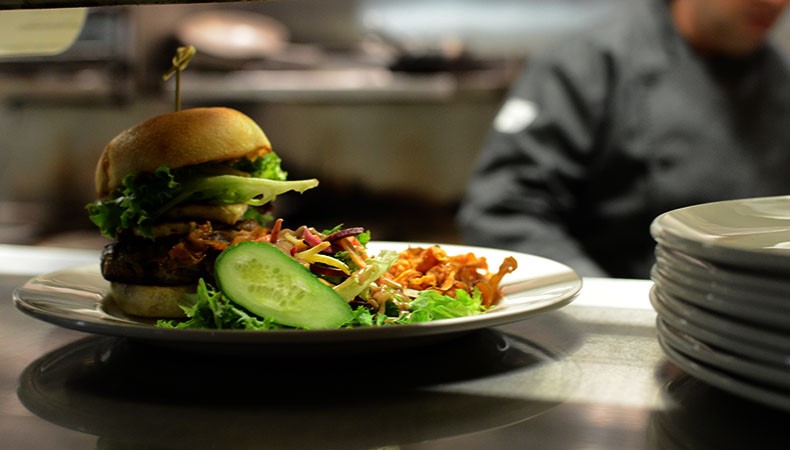 Stoneface Dolly's is located at 4456 Limebank Road in Riverside South – a mere 10 minute drive from Barrhaven. The restaurant will appeal to those of you who prefer to shy away from the ever increasing number of big box restaurants popping up all over Barrhaven. The menu here ranges from the familiar to the eclectic – so a little something for everyone. But regardless of what you order, expect the unexpected – and we mean that in a good way.
Dishes at Stoneface Dolly's share two attributes – above average food presentation coupled with fresh ingredients that just burst with flavor. Regardless of whether you select the Prosciutto Wrapped Meatloaf, or the Penne with Goat Cheese and Portobello Mushroom – or any of their other unique offerings – come in expecting a full on culinary adventure!
We came in for an early afternoon lunch and settled on the Baby Kale Salad (Purple and Green Kale tossed in a Balsamic Vinaigrette with Olives, Cherry Tomatoes, Beets, Carrots and Radishes topped with Masala Candied Walnuts and a Herbed Goat Cheese Puck) and their Chicken Panini Sandwich (Marinated Chicken, Roasted Red Peppers, Tomatoes, Swiss Cheese and Mayo on a Ciabatta bun). The sandwich came with a side of mixed field greens and yam chips. Both of our dishes are pictured below.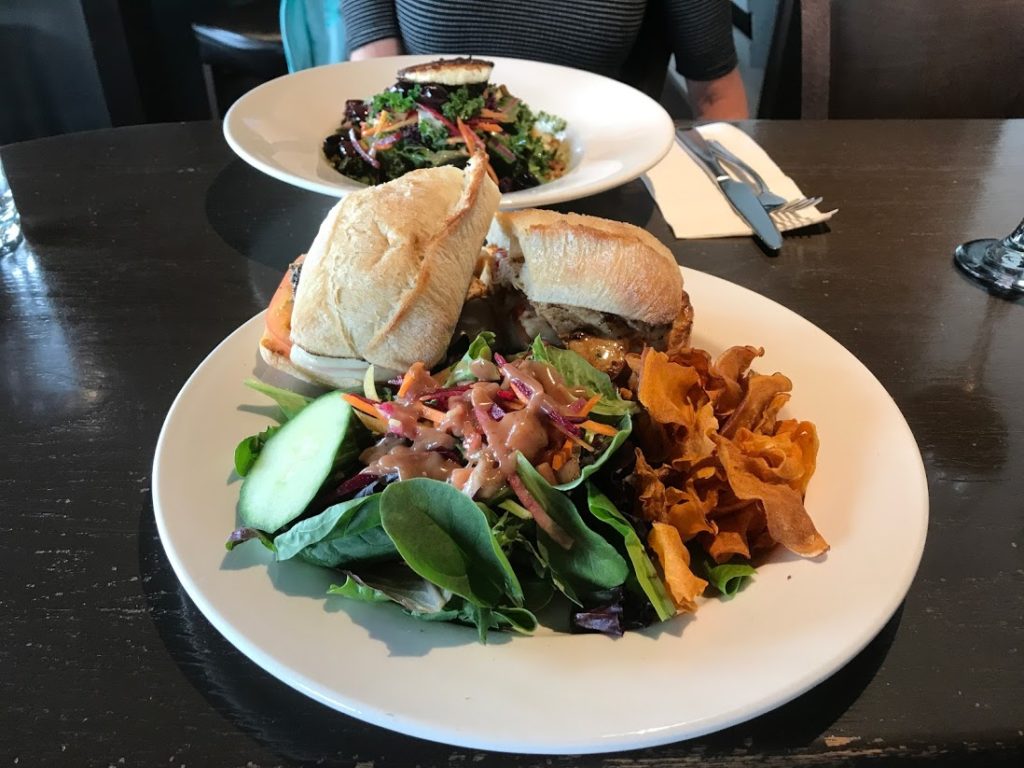 As you can tell from the pictures, food presentation was above average. We must admit that the portions were a tad bigger than we expected. But little did we know that the best part of the meal was still to come.
Let's start with the greens. The ingredients were all crispy and fresh. The olives were pitted and the dressing was well matched and flavorful. Despite their appearance, the yam chips served as a side with the Chicken Panini sandwich were soft and warm – and delicious. But the star of the meal was the sandwich. The chicken breast was cut at just the right thickness to allow the marinade to work it's magic. When combined with the roasted red peppers, Swiss cheese and fresh Ciabatta bun – it made for a perfect lunchtime sandwich.
As far as the Baby Kale salad goes, it also hit all the right notes. The ingredients were all very fresh, and the herbed goat cheese puck added a special touch to every bite. The dressing was well matched, never overpowering any individual ingredient. Simply delicious.
Stoneface Dolly's executes well on several metrics. The decor, while short of prestigious, is warm and inviting. The menu is well-balanced with dishes that feature a little something for everyone. The service was prompt, friendly and well-timed. Well worth a visit, and so close to home.
Highly recommended.
You can visit their website at http://riversidesouth.stonefacedollys.com/
Looking for local trades to help with home maintenance?
The Barrhaven Blog Home Services Directory is here to help!
CLICK HERE TO VIEW THE DIRECTORY