A fun little getaway that's just a few kilometers past the 2014 CHEO dream home
|
Fall brings so many treats to the Barrhaven community. Our grocery stores are filled with fresh local fruits and vegetables, Halloween is just around the corner and our landscape explodes in an array of beautiful colors. Yes, autumn is truly a wonderful time. Another fun tradition in our family is our yearly visit to the CHEO Dream of a Lifetime lottery home. This year's edition features a wide array of wonderful prizes, and the grand prize CHEO home is one of the nicest we've witnessed in years. It's also a great opportunity to support the Children's Hospital of Eastern Ontario.
Today I want to help you make your CHEO Dream Home visit extra special.
If you continue past the CHEO Dream Home down Rideau Valley Drive, you'll find a special little gem located just 4 kilometers down the road on your right. It's the Miller Farm, Market & Garden Centre, and it's an extra special treat to visit this wonderful property in the fall.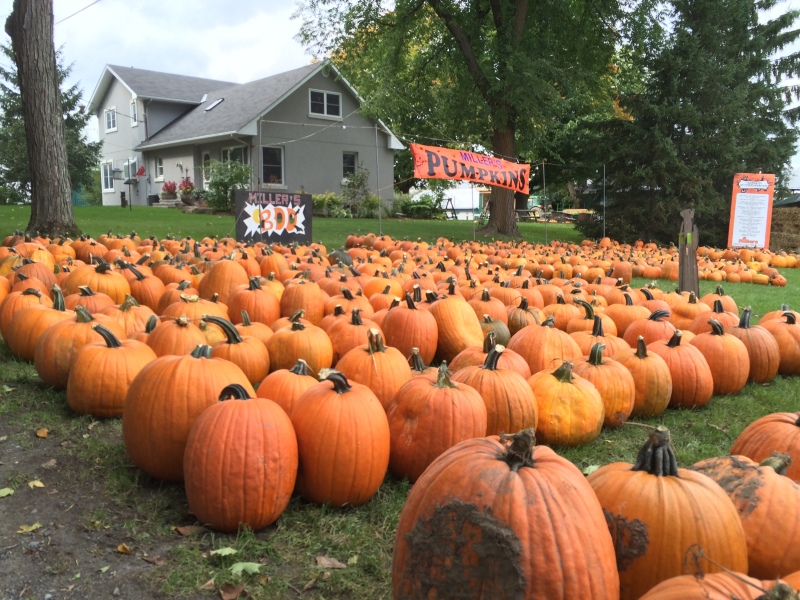 There's lots on offer here for the whole family. For starters, the property is one giant pumpkin patch at this time of the year, so it's a great place to bring the kids when purchasing your Halloween carving canvas. A nice castle made of hay bales is sure to be a hit with the kids.
If you're looking for a tad more adventure, you can try your luck in the corn field maze ($4 per person, babies in arms are free) or a fun tractor wagon ride in the countryside ($2 per person, babies in arms are free).  The farm promises to be great fun for kids, and it's also very affordable for mom and dad. What's not to love!
But wait – there's more!
The Miller Farm also features a nice selection of autumn plants and a very quaint gift shop that features lots of fine homemade jams and food stuff. And yes, you'll find a fresh pie or two to bring home for desert.
The farm is open weekdays from 9am to 6pm, and weekends between 8am and 5pm.
You can visit their website at www.MillersFarmAndMarket.ca
I could go on about all the great family fun this site offers, but instead I'll leave you with a nice video that explains what the Miller Family Farm is all about.
Hope to see you all there!