Chocolats Favoris brings its famous Chocolate Poutine to Barrhaven – and so much more!
|
Great news for the community – Chocolats Favoris has now officially opened in Barrhaven.
Their new store is located at 1055 Greenbank Road, in the just-completed mall right next to the new A&W.
History
For those unfamiliar with Chocolats Favorits, they are well-known master chocolatiers with deep roots in both Canada and Québec. The company dates back to 1979, when they began making custom chocolate treats for Easter celebrations near Québec City.
In 1996 they combined their chocolate making expertise with ice cream – and their now famous chocolate dipped cones were born.
In 2013, Chocolats Favoris reinvented the traditional concept of a chocolate shop by developing a unique concept of stores that offered a spectacular 12 varieties of real chocolate to dip ice cream in or even take home for a delicious chocolate fondue!
What started off as a modest artisanal chocolate shop in Lévis has now become a network of awe-inspiring chocolate stores across Canada.
A unique dessert experience – Chocolate Poutine
I must admit when I first heard the term "Chocolate Poutine", I found myself equally intrigued and somewhat surprised. Ice cream, marshmallows, and chocolate are an amazing combination – but when I think of poutine, its main ingredient comes to mind – french fries. At first glance, I thought this was dessert served on a bed of french fries.
Turns out, that's not the case. The "fries" in Chocolate Poutine aren't fries at all – they're actually small pastries that just happen to be shaped like a french fry. These pastries are light and sweet with a subtle yet satisfying crunch. While they may look like fries, they are very much dessert fare – which is why these sweet pastries are called Dessert Fries.
So what is Chocolate Poutine? I guess one can best describe it as a symphony of delicious (and decadent) ingredients that come together to create an amazing dessert experience.
It all starts with the dessert fries, which are covered with soft ice cream and fresh marshmallows, and then crowned with your choice of toppings. There are 12 unique and flavorful syrups to choose from, in addition to several crunchy toppings such as brownies and cookies. These amazing ingredients can be combined in almost limitless combinations, making every trip to Chocolats Favoris a unique experience.
COMFORTING HOT CHOUCHOUS!
More than just a simple hot chocolate, Chocolats Favoris offers drinkable desserts in 3 unique flavours using real chocolate. A great treat to share when catching up with friends at lunch or after work.
Irresistible – their famous chocolate dipped cones!
Come and discover the magic ingredient that transforms an ordinary ice cream treat into an irresistible dessert experience. Their famous dippings are made with real chocolate are available in 12 amazing flavours—each featuring ooey gooey goodness. Try out a new flavour every time you visit to spice up your experience!
The perfect treat for any chocolate lover on your gift list
The Barrhaven location of Chocolats Favoris features a gift shop that's perfect for any occasion. The shop features chocolate fondue supplies, chocolate bars, fine chocolate gift boxes, coated delights, and crunchy treats. You can also purchase gift cards to treat your family members and friends to a premium dessert experience they'll never forget!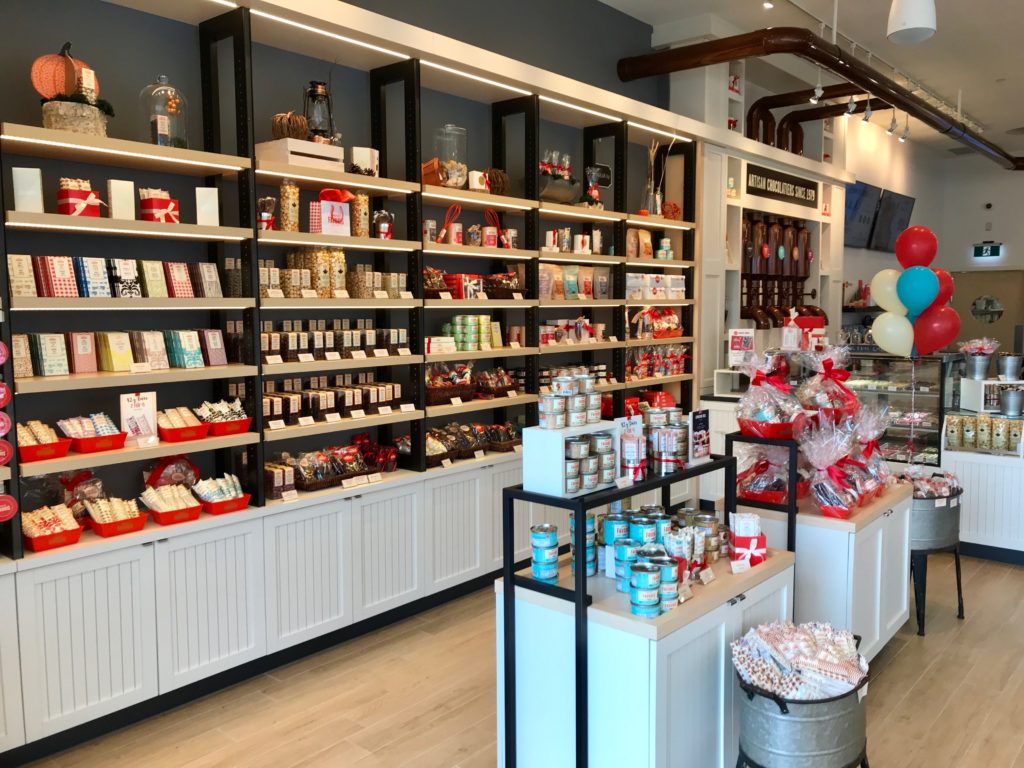 Join them for their grand opening on September 29th & 30th 2018
Due to last week's storms, Chocolats Favoris will be honoring their special launch weekend coupons this weekend. The two-for-one dipped chocolate cone coupons were sent via Canada Post last week and can also be found on the Chocolate Favoris Facebook Page (you might have to scroll down to find the coupon).
Bring the coupon with you this weekend and enjoy two chocolate dipped cones for the price of one! That's right, call your friends, print out the coupons, and meet them at our store on Saturday, September 29th, 2018 or Sunday, September 30th, 2018 and enjoy two chocolate dipped cones for the price of one!
See you there!
The preceding post was sponsored by Chocolats Favoris. We thank them for supporting our community blog.