EBATES.CA Canadian Deals – How to save up to 15% on your online purchases in Canada
|
It's not a stretch to say that it sometimes seems that only our neighbors to the south get all the great online deals. That is the perception, and more often than not, also the fact. But the month of May not only brings nice weather to Canada, as this year it's also bringing some sweet discounts to those of us who shop online.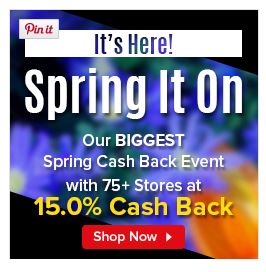 Canadian Deal Site eBates.ca has partnered with 75+ of Canada's top online stores to offer deep discounts of up to 15% Cash Back for the month of May. And we're not talking about obscure brands here, we're talking about top retailers such as:
Toms
Groupon
Nike
Keurig
ShoeMe.ca
The Body Shop
HP Canada (great deals on laptops)
Holiday Inn
Coach
Dynamite.ca
Le Chateau
Garage
Linen Chest
And many more…
And these shopping rewards are pretty easy to score. All you have to do is sign up on the eBates.ca site using your Facebook or an email address, and then visit your favorite store from their website. You will then earn reward dollars for every item you buy. That easy. You can even earn reward dollars for all your Amazon.ca purchases.
The 15% Cash Back promotion is on for the full month of May, but the service will continue to offer amazing cash back promotions all year round.
In this day and age, we all shop online, so why not earn some cash back for doing so!
Visit eBates.ca for all the details!