HelloFresh Canada Review – a Canadian food delivery service with a fun twist!
|
Back from my summer holidays and today I'm going to share one of two new great products I discovered over the last few weeks.
The first discovery is both a service and product rolled into one that's sure to be a hit with busy families and couples. The service/product is called HelloFresh.ca and is now available in Ottawa and Barrhaven, as well as cities in Southern, Central and Eastern Ontario.
So what is HelloFresh.ca? It's a fun new online service that delivers delicious and healthy recipes with all the necessary pre-measured ingredients to your door every week. Each box includes meats, greens, sauces and spices as well as step by step instructions on how to create amazing dishes in 30 minutes or less. No shopping necessary!
The service creates delicious recipes from a variety of cuisines. Each one is reviewed by their dietitians to ensure that they're both balanced and nutritious. Their signature step-by-step recipes make cooking quick, easy and fun, so you can get delicious meals on the table every day.
It's important to note that the word fresh is in their product name for a good reason – their promise is that they'll bring you the freshest and healthiest food, with a dash of fun, a sprinkle of learning, and a dollop of deliciousness, all for a great price.
Using their app or website, you can view available meals, choose home delivery times, view past purchases and place your orders quickly and easily.
Our experience with HelloFresh Canada
I came across HelloFresh.ca while surfing the net and was intrigued enough to want to give it a try. I emailed the service to ask if they would be willing to provide us with a sample box for review purposes and before you know it, their product appeared on our doorstep in Barrhaven.
The box design was quite interesting. In the bottom of the box is an insulated section with several ice packs to keep meats refrigerated. In the section above the meats were three meal boxes, each with their own ingredients and cooking instructions. In terms of aesthetics, the packaging is functional and well thought out. So far, so good!
We decided that the best way to evaluate the meals would be to have two other couples over for a cooking party, so we invited friends over to participate in our product evaluation. The girls cooked two of the meals, and the guys cooked the third. Needless to say, with six participants in the kitchen, it was a chaotic yet fun exercise!
We decided to eat tapas style and the crew created the following three dishes:
Apricot-Glazed Chicken with Thyme-Roasted Potatoes and Carrots
Quick Sausage Bolognese with Spinach, Spaghetti, and Parmesan
Thai Beef Satay with Crispy Broccoli, Peanut Sauce, and Jasmine Rice
Here is a picture of one of our completed meals:
What surprised us is that the completed dishes looked very much like the pictures on the recipe cards. As far as taste goes, all six of our participants agreed that the dishes were very tasty and didn't sit heavy. Everyone mentioned that the Sausage Bolognese with Spinach, Spaghetti, and Parmesan was their favorite. The Apricot-Glazed Chicken with Thyme-Roasted Potatoes and Carrots was a close second.
Here are our observations:
The boxes deliver on their promise. Each box contained all the necessary ingredients and step by step instructions on how to complete the dishes. All ingredients are pre-measured and when possible, chopped or diced. The only thing we provided from our own cupboards were salt, pepper, and some olive oil. The freshness of the ingredients also lived up to their promises.
Preparing the meals was both fast and fun. I discovered how much fun cooking can be when all the prep work is done for you and you don't have to run to the store for that one missing ingredient. The step by step instructions are very easy to follow, and the completed meal actually looked identical to the picture on the recipe card. Very impressive. The recipe cards are also printed on heavy stock paper, so they will be easy to save for future reference.
Taste and quality are where this product really shines. Fresh meats. Fresh greens. Little if any preservatives. The dishes are not only delicious but very healthy. If you enjoy variety in terms of food consumption, you're going to love HelloFresh Canada.
Another takeaway is the educational aspect of this product. Not only does it deliver a nice variety of fresh meals, but it also teaches you how to cook. And when it comes to the culinary arts, nothing beats hands on experience! The service is worth it for this feature alone!
One final note. The meals come in a variety of sizes, therefore you can order boxes that will be a good fit for the number of people in your family. Our box contained three meals, each of which are meant to feed four people. We can confirm that each kit does indeed contain enough food for four adults, so you might even have some leftovers if you have small children.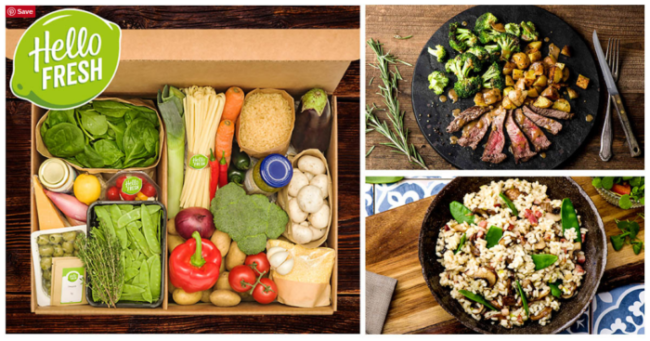 Conclusion
HelloFresh Canada is a great product for couples seeking a fun date night idea, families looking for tasty and nutritious alternatives to take out food, or even seniors who still enjoy cooking but not having to venture to the grocery store when the weather is being uncooperative. The product will also appeal to people looking to learn on how to cook. It is truly a cooking class in a box!
As a special introductory bonus, readers of The Barrhaven Blog can get a $30 dollar discount on their first two orders from HelloFresh (total value $60) by using coupon code BARRHAVEN60. This is a great way to try out the service and save on your food budget to boot!
You can view all of their product offerings and pricing here. 
Happy Cooking!