More retail stores announced for Barrhaven Costco site
|
Yesterday's news that Costco is coming to Barrhaven was welcomed by the community. Today we have additional information in terms of when the new facility will open, and some of the other retail stores that will share the site.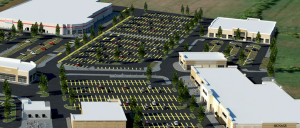 For starters, the site is scheduled to open in the Fall of 2016. And the Barrhaven Costco store will be surrounded by other retails outlets that are sure to be a hit as well. The site will be home to a brand new LCBO outlet to better serve the west end of Barrhaven. For bargain hunters, there will be both a Dollarama and Value Village on the site.
Hungry? Montana's and Tim Horton's will also be present. For those looking for clothing, both Marshall's and Moore's will be setting up shop as well.
So all in all, lots of new retail coming our way – and the site still has 8 stores up for lease. We'll be keeping our ear to the ground when more tenants are announced!