Barrhaven MPP Lisa MacLeod an early favourite to take over the leadership of the provincial Tories
|
Following disturbing allegations of sexual misconduct leveled against Ontario Progressive Conservative leader Patrick Brown, the party now finds itself in crisis mode a mere few months ahead of a scheduled provincial election. In terms of timing, this scandal could not have come at a worse time.
Fortunately, the party has many seasoned leadership candidates to choose from, and we feel the best among the early favourites is none other than Barrhaven MPP Lisa MacLeod.
Other names being mentioned as possible contenders are Christine Elliott and Caroline Mulroney, but neither would be a good fit at this particular point in time.
Caroline Mulroney is, without doubt, a rising star in the party with a very promising future. She's a very intelligent and capable politician, but also a rookie MP with limited experience. She will, without doubt, be considered for a cabinet position in any future government, but with only a few months to go before the election, she might be seen as too much of a gamble for a party that has squandered significant leads in the last two provincial elections.
Christine Elliott is another potential leadership candidate with a wealth of experience, however, she comes with one major drawback – she left politics in 2015 and therefore does not have a seat in the provincial legislature. Given that time is of the essence, it would not be advisable to select a leader who would be absent from question period in the months preceding an election.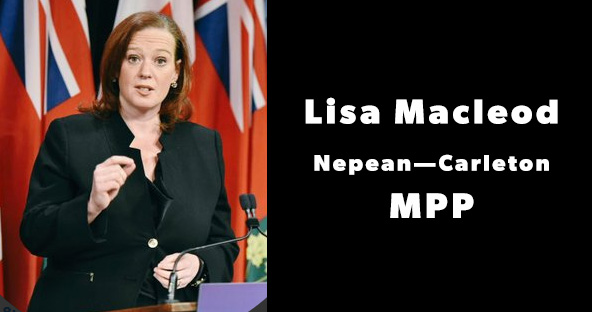 Which brings us to Lisa MacLeod. I've written in the past about our community's track record of electing capable politicians. Jan Harder and Micheal Michael Qaqish have proven to be two of the hardest working councilors at City Hall, and Lisa MacLeod has continued this tradition at Queen's Park. She's smart, politically savvy and more importantly, an experienced politician with a seat in the Ontario legislature. She would be a competent and worthy opponent who would have no problem going toe-to-toe with either Andrea Horwath or Kathleen Wynne in an election debate.
With only a few months to go before the next provincial election, the Ontario Progressive Conservative Party needs to select a leader who's a skilled political operative with strong name recognition and a seat in the legislature. Lisa MacLeod isn't just the best choice for the party, she might well be the only choice.
To learn more about Lisa MacLeod, you can visit her website at http://lisamacleod.com/
Travelling in 2018?
Here's a $50 AirBNB coupon courtesy of The Barrhaven Blog