Nepean Synchro brings its synchronized swimming summer camp to Barrhaven!
|
For 
BOYS AND GIRLS
ages 5-16 who are looking for an active water sport this season, check out Nepean Synchro, c
urrently ranked the #1 synchro club in Ontario!
Synchronized swimming is a sport that promotes strength, endurance, flexibility, and artistry, to name just a few benefits.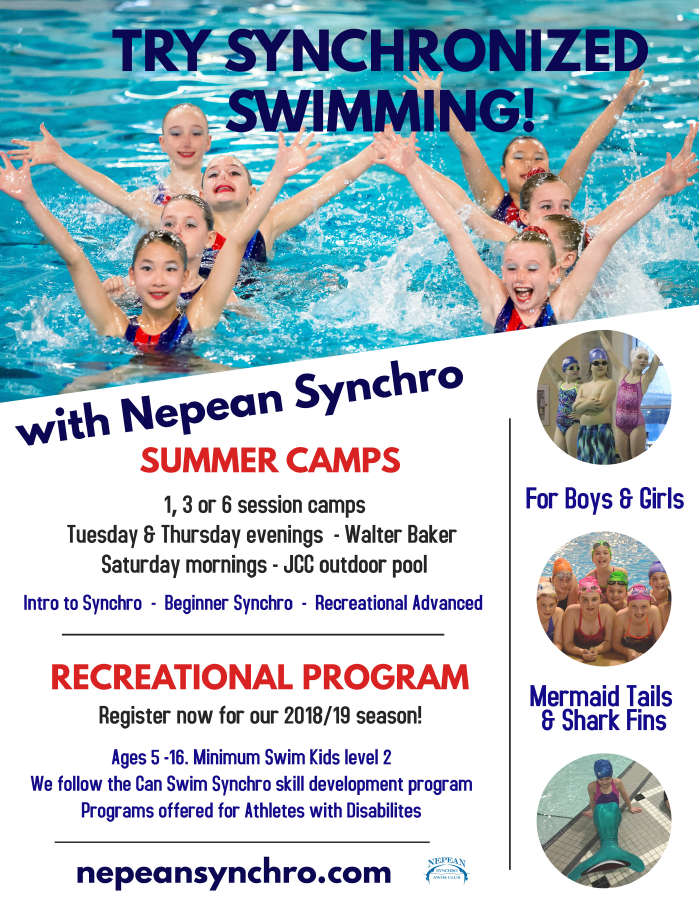 Try one of our camps this summer!
Your child can attend just 1 session to get a taste of what it's all about, or longer sessions of 3 or 6 classes, on the same day of the week:
Tuesdays 7:30 – 9:00 pm at Walter Baker

Thursdays 4:30 – 6:00 pm at Walter Baker

or Saturdays 8:30 – 10:00 am at the JCC outdoor pool
Register now for our 2018/19 Recreational Program!
Our programs range from a 9-week Active Start session for 5-7-year-olds, all the way to full-year programs for all ages, including a Teen Intro to Synchro for 13-16-year-olds.
We follow the Can Synchro Swim skill development program and include some fun swimming with shark fins and mermaid tails. Our enthusiastic coaches create a positive environment where swimmers can improve their coordination, flexibility, and strength while developing a routine that will be showcased at our annual year-end Water Show.
If your child enjoys swimming and loves music and teamwork, then synchronized swimming may be the ideal sport for him/her!
Programs are offered at the following facilities:
Walter Baker Sports Center

Nepean Sportsplex

Britannia Boys and Girls Club

Soloway Jewish Community Center
For questions contact our Recreational Program Director at rec@nepeansynchro.com
To register visit nepeansynchro.com
The preceding post was sponsored by Nepean Synchro – we thank them for supporting The Barrhaven Blog.