UBreakifix cell phone repair service opens Barrhaven location
|
The users of tech in Barrhaven have a big reason to be excited! uBreakifix, a leading and fast-growing electronics repair franchise is now open and ready to serve the members of our community.
From water-damage or shattered displays to complex technical issues, uBreakiFix is quickly becoming the preferred choice for fast, affordable, and reliable electronics repair solutions.
City councilor Jan Harder, Ottawa Senators Racing Prime Minister Mascots, and uBreakiFix franchise owner Dillon Leeder took part in a ribbon cutting ceremony to officially announce that the uBreakiFix Barrhaven location is open for business.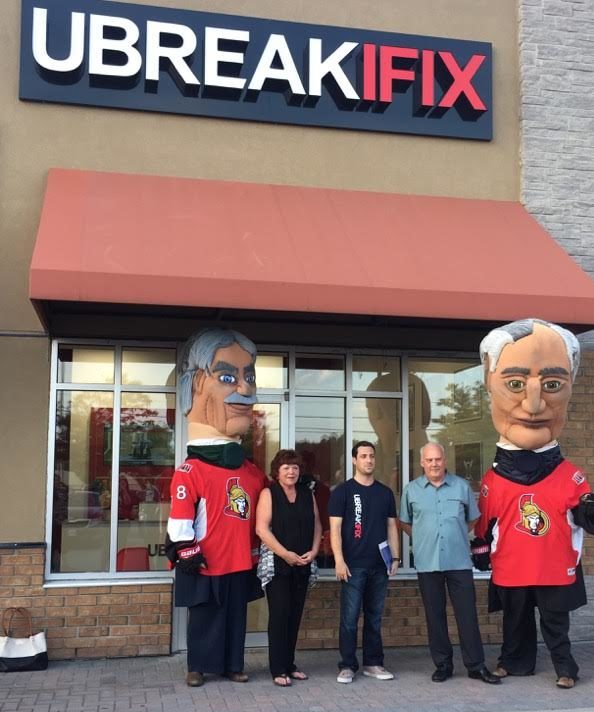 We caught up with franchise owner Dillon Leeder to discuss the types of repairs that they do at uBreakiFix and what we can expect from the Barrhaven location:
"uBreakifix is really disrupting the traditional electronics repair industry and changing the way that people think about a repair store. If your device has a power button on it, there is a good chance we can fix it. We offer free diagnostics on any devices, so even if you are unsure what's wrong with your device, bring it to us and let one of our trained technicians take a look free of charge.

Our main areas of expertise include cell phone repair, tablet repair, and computer-related repairs for both desktops and laptops. Our most popular repairs are cracked screens, battery replacements, and charge port replacements for iPhone, Samsung Galaxy, and LG devices. We always keep a large stock of these parts so most of the repairs that I mentioned can be done the same day while you wait in 1-2 hours or less."
We also asked Dillon what separates uBreakiFix from other cell phone repair shops:
"We only use authorized, OEM grade parts, and we back all of our repairs with a minimum 90-day warranty. We also offer a low-price guarantee on all of our repairs as well, which means we will price match our competitors even if they are using aftermarket parts. Lastly, our customer service is unmatched. We will go above and beyond for our customers to make sure that they understand what's going on with their repair, and that their device feels good as new once we are done with it."
He also added:
"There's a lot of exciting news surrounding the franchise as well that has me excited. We have strategic partnerships in place with major international device manufacturers such as Google, Samsung, LG, and more. This allows us to buy direct from the manufacturers to ensure part quality, and also to keep our prices low for our customers by buying direct from the manufacturer.

Furthermore, when it comes to carriers here in Canada, uBreakiFix has developed partnerships with Rogers, Telus, Fido, and Koodo to perform in-warranty repairs for their customers that have device protection on their plan. This means that instead of having to send your phone out and waiting several days for it to come back repaired, these customers can now get repairs done in a few hours or less.

Our Barrhaven location in particular is very convenient in terms of being able to access our store, park, and get repairs done quickly. I am optimistic that our leadership team at uBreakiFix Canada corporate will continue to bring on more national partners to help reach even more customers and drive business."
That's great news about global and national partnerships, but we wondered about local businesses here in Ottawa and right here in Barrhaven? We had to ask Dillon if uBreakiFix was working with anyone locally, and if there are plans available for corporate businesses:
"It is free for any business to sign up for our corporate program, and in fact, we are already working with several local businesses that have found it beneficial to sign up for a corporate plan. The Tomlinson Group for example just moved into their new office building in Barrhaven and we are currently doing all of the device repairs for them and their staff.

In addition to discounts on repairs, we also provide an extended warranty to our local corporate partners, and other benefits. Soon we will be launching a program where both corporate and consumers can order one-way valet service via an app to have their device picked up and brought to one of our locations which also has me very excited."
Since the launch of its franchising program in 2013, uBreakiFix has grown to more than 850 stores contracted and more than 425 retail locations already open in North America including 70+ in Canada. The franchise repairs more than 150,000 smartphones, tablets, and other consumer electronic devices every month. The Barrhaven location is one of 4 franchises open in the Ottawa-Gatineau region.
With its low-price promise, industry-leading 90-day repair guarantee, and unrelenting commitment to customer satisfaction, uBreakiFix has become the pre-eminent gadget repair company in the industry. uBreakiFix is an authorized repair partner for North America's largest OEM, Carrier, Insurance Providers, and other mobile device industry leaders.
Store Hours
Mon – Sat: 10:00AM – 7:00PM
Sun: 12:00PM – 5:00PM
Walk-ins are always welcome.
The previous article was sponsored by UBreakiFix – we would like to thank them for supporting our community blog.