Treat Head Colds with Salt Therapy at exhalo in Barrhaven
|
As the leaves change colour and fall, so can you serotonin levels, affecting many with SAD (seasonal affective disorder). The other season that lingers around the corner is cold and flu season! What if I told you there was a way to prevent the spread of influenza and the average allergy and head cold symptoms? No pills, no shots – nothing but Salt Inhalation. Not only is a perfectly natural, but it is also just minutes away at your local Barrhaven Spa, exhālō.
Experiencing Seasonal Depression? Try Halotherapy!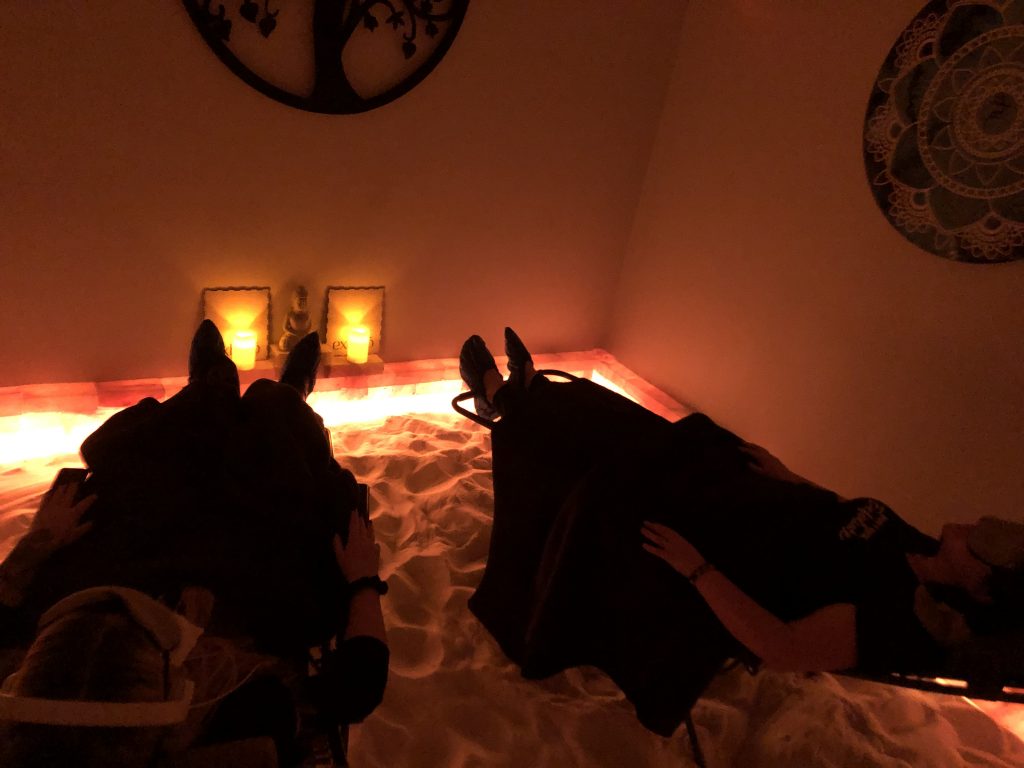 Salt Therapy is 100% natural, drug-free and non-invasive. Salt, in its micro-crystalline form, has antiseptic, antibacterial, anti-fungal, and antiviral effects on the epithelial cells (one of the body's most important for protection and secretion).
The salt helps your cells consolidate inflammation and mucus, so your body can get rid of it. You can simply breathe while you treat symptoms of asthma, allergies, sinus issues, head colds and more. You can reduce stress and anxiety, depression and even skin ailment symptoms of eczema, psoriasis or acne with the added purification of the backlit Himalayan salt bricks within their Salt Room. Now those alone are a great bonus for many of us!
So how does it work? Halotherapy uses dry salt vapor to treat respiratory ailments, skin irritations, and combat mental lethargy all while you relax and simply breathe. At exhālō, they use only the safest and purest salt form (99.99% Pure Sodium Chloride) for their halogenerator use. All it would take is 45-50 minutes a day, 1-2 days a week to help kick start your body and boost your immune system to gain all the benefits dry Salt Therapy has to offer.
When was the last time you took an hour to yourself? While your body strengthens from the many benefits the Salt Therapy has to offer, mentally you are also clearing your mind and allowing your body to feel weightless as you drift back in their comfy zero gravity chairs – listening to meditation music (or download and listen to your own with use of their headsets and free WiFi). – Talk about a POWER NAP!
The beauty of this treatment is it can be at any time between on your way home from work or stopping by after you have put the kids to bed. You are free to wear your own clothes – comfort is key!
Did we mention exhālō will provide you with a lovely warm, neck wrap and lavender eye pillow too to help ease any tension in your neck or back? Not only is this treatment good for you, but it's also great for your family! On Sundays, exhālō provides a family-friendly atmosphere with services tailored towards the younger ones, teens and everything in between. They host specialized Sunday Salt Box sessions that allow your children to play with salt friendly toys to create the ultimate "sandbox" experience.
Halotherapy is also proven safe and beneficial to pregnant women at any point through their journey, including new arrivals who have a hard time sleeping through the night – and it does wonders for babies with sinus stuffiness!
We want to invite you to try the best-kept secret to a happier and healthier YOU!
Exhālō offers Halotherapy every hour of the day that they are open, including optional meditation and yoga classes for all ages. You WILL experience total wellness at exhālō, the spa that feeds your soul.
They are the proud recipient of the West Ottawa Board of Trade's 2018 Business Excellence Award for New Business of the Year, and the recipient of the 2019 Consumers Choice Award for Business Excellence in the category of Day Spa, and offer an array of full Spa services complete with Hair and Registered Massage Therapy. Exhālō also offers unique Chakra balancing treatments and Reflexology to ensure total bliss and balance from your head to your toes.
If you have not had the pleasure of experiencing exhālō and the dream team, they would be happy to offer you a sure way to beat a head cold and boost your immune system with a Two for One Offer to try Halotherapy this November. *mention this ad to take advantage*.
Take on fall & flu season with a restful mind and healthy body – one breath at a time. Relax, unwind, and as they say "Simple exhale, we've got you."
Click here to follow exhālō on Facebook
Click here to follow exhālō on Instagram