Residential break-ins are on the rise in Barrhaven – here are some tips to help protect your home
|
It's the worst feeling ever. Coming home and discovering that your house or apartment has been broken into.
Stolen items can be replaced. But the psychological trauma of knowing that someone violated your privacy and personal space is disconcerting. Home is where you're supposed to feel safe and secure. Break-ins shatter that peace of mind. And it takes time for that feeling of security to return.
For many of us in Barrhaven, our homes represent one of the biggest investments we'll make in our lives. Nothing else comes close. Therefore, it makes sense to protect our residential properties as well as we can. This often means obtaining homeowners' insurance and ensuring that all access points are secure.
But in today's day and age, we can do much more. Thanks for smartphones and security gadgets, we now have an unprecedented ability to keep watch on our homes even when we're away. Today, I want to share with you some best of breed security gear that helps keep an eye on your home 24 hours a day, seven days a week.
The Canary
The Canary is my favorite indoor security device. It's stylish. Discreet. Effective. And super smart.
For starters, it's a high-resolution (1920X1080 HD) full-color security camera with motion detection. It knows when you're home. It knows when you're away. And it even sees perfectly in the dark with outstanding night vision.
But that's just for starters. When motion is detected, the video is saved on remote servers. So even if the device is stolen, the video still remains accessible. That really matters. Every Canary comes with FREE 24 hour video storage. You can extend this to 30 days worth of storage for $10 a month.
The story gets even better thanks to internet smarts. The Canary integrates with your smartphone to send you instant notifications when something's out of the ordinary at home. From your Android or iPhone device, you can view both saved and live video from your home. The device even lets you communicate with whoever is in your home in real time.
Another feature we love is temperature and humidity monitoring. All you have to do is provide the Canary with temperature thresholds (our trigger is 15c) and your Canary will send you an instant notification is the temperature falls below that level. Great protection if you travel and need to monitor your furnace while away.
Best of all, the Canary is very affordable. You can get one today on Amazon.ca for only $119
Outdoor Security Cameras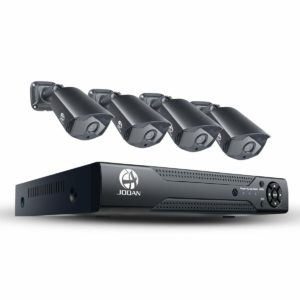 This option does require a bit of tinkering, but once set up, it offers lots of peace of mind for both yourself and your neighborhood.
You can purchase a 4 camera outdoor surveillance kit that includes a digital video recorder for under $200. You will need to also purchase a cheap hard drive for the recorder, but that still keeps the total price to under $300.
The kit included everything you need – 4 cameras, all cabling (4 X 60 feet), a digital recorder and power supplies. An average handyman can get this installed in about an hour or two.
The beauty of this kit is that it offers 24/7 continuous surveillance of your property. I installed four cameras around the perimeter of my garage, ran the cabling into my mud room – and now I have complete peace of mind. If anything happens to my home, I have what law enforcement values the most – video evidence.
I should also mention that these are HD resolution outdoor cameras that can take a beating. They are built for both hot and cold weather and are 100% waterproof. Best of all, they come with advanced night vision that can see perfectly in pitch darkness up to 60 feet.
The only thing to keep in mind with outdoor cameras is that they can only be used to record your own property, or public property (street). You cannot aim them that other properties nearby. So keep that in mind when you install them.
You can learn more about this 4 camera kit at Amazon.ca
Conclusion
When it comes to overall crime, Barrhaven remains a pretty safe community. But make no mistake, we are not a crime-free community. We have excellent law enforcement services, but realistically, the police cannot be everywhere, all of the time.
From experience, I can tell you that video surveillance is very effective. Police often have little to go on when a crime is committed. Video evidence is often instrumental when it comes to successful prosecutions. They are a great deterrent to both theft and vandalism.
But most importantly, they help protect your two most treasured assets – your family and home.