An Oktoberfest Tale: #Beirhaven: where cowboys and cowgirls meet!?!
|
Creemore Springs Oktoberfest Ottawa presented by the Merchants of Barrhaven. Oktober 1 to Oktober 3, 2015 in the Myers Volkswagen Auto Haus at Clarke Fields Park in #Bierhaven!
Country's Hottest Duo know a little something about Germany, Bavaria and Oktoberfest. "Our parents are actually German and we grew up speaking German" recalls Curtis Rempel of the smash country duo HIGH VALLEY. "We loved making Varst German Sandwiches, which was sausage, Bulls Eye BBQ Sauce on a toasted bun.
The intersection of Country and Bavaria is Creemore Springs Oktoberfest Ottawa presented by the Merchants of Barrhaven. Thursday Oktober 1 to Saturday Oktober 3, 2015 in the Myers Volkswagen Auto Haus at Clarke Fields Park in #Bierhaven. Over the three days you will see a Thursday Kickoff Koncert by HIGH VALLEY followed by Friday and Saturday's more traditional Oktoberfest music and activities.
Germans have a fascination with cowboys, natives and the Wild West. German hobbyists spend their weekends trying to live exactly as natives of the North American plains. Cowboy-themed saloons – where patrons wear vests, hats and boots and call each other "partner" – can be found in most major German cities. Most credit (or blame) German author Karl May for the country's obsession with the Old West. May wrote several novels that centered on the adventures of a Native American hero named Winnetou.
But it does not matter if you like country, are from Germany, like Oompah music or big German sausages, what is important as a resident or supporter of Barrhaven is that you get out to at least one of the festival days. This is Barrhaven's signature festival, where people from around the country now come… last year as far away as Nova Scotia.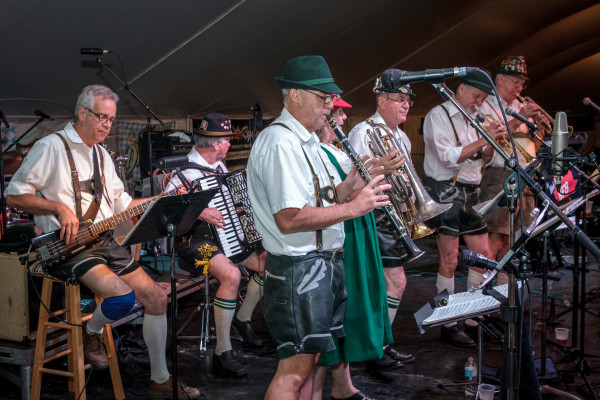 7 Things you Probably Didn't know about Oktoberfest in Munich and Barrhaven
1.
A celebration fit for a king
Oktoberfest originally began as a celebration of the marriage of Crown King Ludwig and Queen Therese of Saxe-Hildburghausen in October of 1810. Today, there are hundreds of celebrations around the world, including the biggest one in the Ottawa area right here in Barrhaven.
2.
Munich beer, or no beer at all
Only six breweries are allowed to participate in Germany's Oktoberfest, all brewing within the Munich city limits: Hofbräuhaus München, Spaten-Franziskaner-Bräu, Paulaner Bräu, Löwenbräu, Hacker-Pschorr Bräu and Augustiner Bräu.
Each brewery has a tent where only their beer is served. Thi Oktoberfest Ottawa recreates this by building the 27,200 square foot Myers Volkswagen Auto Haus, constructed to house Creemore Springs craft biers exclusively, which follow the strict German brewing traditions!
3.
Not your typical
fall
country fair
The original incarnation of Oktoberfest was a country fair with horseracing, contests and even freak shows! Horseracing is no longer part of the festivities, but we will be bringing in the Clydesdale Horses on the Saturday Oktober 3 at Clarke Fields Park for the ceremonial keg tapping!
4.
Only the strong survive
Oktoberfest beer is typically around 6% ABV, far stronger and sweeter than typical German lager. It's easy to get dehydrated on a warm early fall afternoon, and many people pass out from exhaustion. These people are called Bierleichen (German for "Beer Corpses.") We don't see that much here at Oktoberefst Ottawa… please drink responsibly!
5
.
Let's call the whole thing off… but not in Barrhaven!
There wasn't always a reason for celebration when Oktoberfest came around. In fact, the fest has been officially canceled 24 times due to disease and war. In 1854 and 1873, cholera epidemics forced postponement of the fest. It was also canceled during the years of the Franco-Prussian War, WWI and WW II.
6
.
On your mark, aim, hold your stein!
Besides the beer there are also activities in the tents, too. The 'Masskrugstemmen' is an event where you try to hold out a bier stein straight armed as long as you can… the last one to keep their arm straight is the winner!
7
.
Bringing
the kids
to
the
Myers Volkswagen Auto Haus
tent
The idea of bringing children to a massive beer festival might seem pretty far out, but sure enough, hundreds of children attend Creemore Springs Oktoberfest Ottawa every year. There is always something to do particularly on the Saturday, when they can see among other things the Clydesdale Horse and Wagons arrive!
Tickets for this year's festival can be picked up at Ross Your Independent Grocer or at MacDonald Moussa Team Real Estate Offices in Barrhaven or online at www.OktoberfestOttawa.com