Pete & Gus – The best little butchery in Barrhaven
|
I have very fond memories of growing up in small town Ontario. It was a simpler time when there were no cell phones, the local arena was our social networking hub and our only form of organized sports was playing street hockey with other neighborhood kids.
I remember hanging out in front of the local corner store, which was located next to the town butcher shop. Our village did have a grocery store, but most residents bought their meat from Fleurants butchery, which was known for it's friendly service and quality cuts of meat.
As we all know, Barrhaven has grown by leaps and bounds over the last 30 years, but it somehow hasn't lost its sense of small town community. Yes, big box stores have invaded our retail landscape, but we also have a healthy selection of smaller retailers who provide great service and niche products that fill some of the gaps left unfilled by larger retailers.
One of my favorite destinations for quality meats in Barrhaven is the Pete & Gus Meat store located at the corner of Jockvale and Ceaderview roads. It's a small town butcher shop that features prime cuts of your favorite meats along with a few welcomed surprises.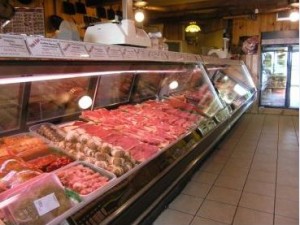 The store is very clean and features a country style decor. You almost feel like you've been transported back in time when you enter the premises. The selection of meats is well presented behind a clear glass display, with the friendly staff poised to take your order behind the counter. This is the kind of service you used to get back in the good old days and it's one of the reasons I love shopping at Pete & Gus. Pete is often in the store himself serving customers, and it almost seems he knows them all by name.
As far as the merchandise goes, Pete offers up nothing by the very best cuts of fresh meats. I'm particularly fond of his rib steaks and homemade coleslaw. Whenever we order a prime rib roast, Pete happily spices it up for us with a fine Montreal rub. But some of the best treats are in the freezer at the back of the store.This is where you'll find many of Pete's homemade goods. My three favorites are his homemade meat pie, spaghetti sauce and lasagna. I'm a big fan of meat pie, and Pete's is probably the best I've ever had – next to mom's, of course.
Pete & Gus is just one of many niche retailers who bring that extra something special to the Barrhaven community. I strongly recommend you check out his shop if you've never been there.