The Barrhaven Blog review of AirBnb
|
Every now and again we like to head off to Montreal for a quick getaway. We love the city and never run out of things to visit. This time round we enjoyed some art galleries, an amazing Jazz club and the famous Jean-Talon outdoor market. We also experienced some amazing cuisine in Old Montreal.
As per our usual practice, we fired up Trivago to try to find a good deal on a hotel room. Unfortunately for us, Montreal was hosting an international AIDS conference and hotel rooms were going at a premium. And by a premium I'm talking about $250-$850 per night. Fortunately I had heard of AirBnB, but had never used the service. Well, this was as good as a time as any, so we registered an account and started looking for a room.
We were pleasantly surprised by the inventory of available rooms provided by AirBnB. Several beautiful condos in downtown Montreal were available for between $100 – $150 per night. We got this little gem less than a block away from Old Montreal for $150 a night. A nice 17th floor condo in the same building as the Hilton Hotel with an amazing view.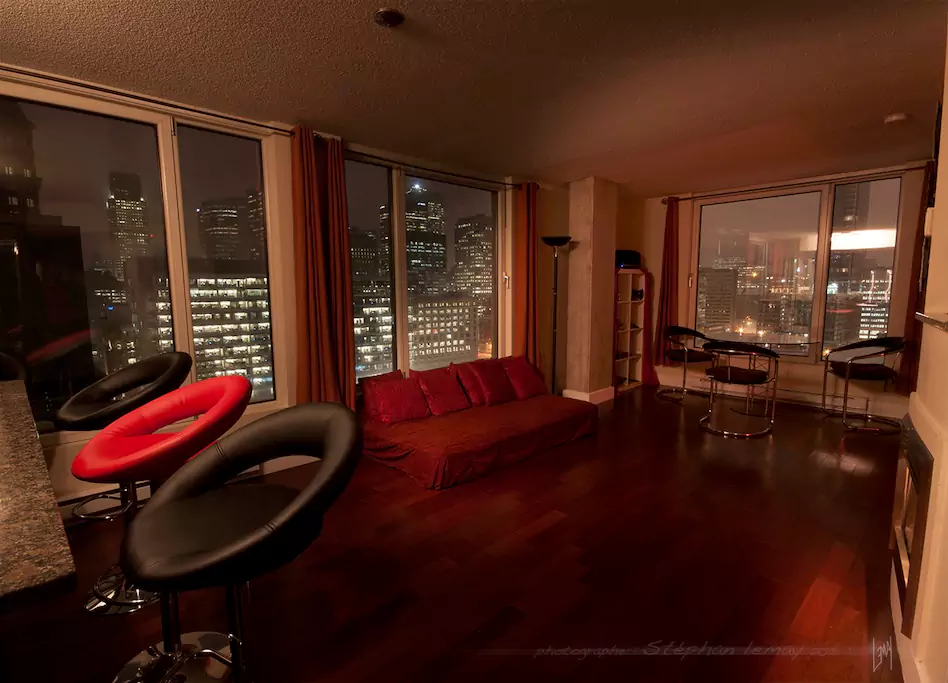 As nice as this unit was, we found even more attractive condos for even less. But many were already booked.
The process of signing up with AirBnB could not have been any simpler, especially if you have a Facebook account. A simple email confirmation and registration of credit card information is all it takes to start booking a room for your dream getaway. Once you book a room, you immediately receive a confirmation of your booking via email, along with an itinerary and travel directions. Nice. You also receive contact information so that you can communicate with your host. So convenient.
Here are two tips to remember when using AirBnB. First off, always read reviews. Lots of them. If possible, all of them. AirBnB cares about their guests, and an unbiased review system helps consumers when selecting a property, and also encourages hosts to offer their clients great experiences. In short, trust the reviews – they are mostly accurate. Our second tip would be not to book the first room you find attractive. Browse as many rooms as you can before choosing. You will definitely find better deals this way.
So how was our overall experience? Well, we drove to Montreal, easily found the building and parked in an indoor municipal parking lot for $18 a night. Bear in mind, hotels also charge for parking. The unit was pretty much as pictured and the view was amazing. Not quite as clean as a hotel room, but comfortable for a 3 night stay. Price was a full $200-$300 cheaper than other hotels in the area, and no municipal hotel taxes were levied – even more savings.
After our stay, we were asked to complete a fairly extensive survey and write a review of the room for other potential tenants. This is important. Be honest with your review in order to help other AirBnB users find great rooms at great prices.
Would we use the AirBnB service again? The answer is an enthusiastic YES! We got an amazing room with a great view, in a prime location at a 50% discount. What's not to love.
I invite my readers to use my $40 AirBNB Coupon to save even more on your first stay!