The Tupperware Lady in Barrhaven
|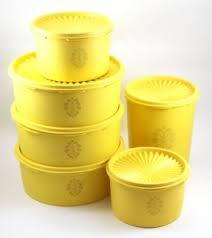 I attended my very first Tupperware party when I was 8 years old!  Yup… 8 years old!  I came home from school one day to find out that my parents' living room was filled up with a lot of plastic containers that vary from different colors, shapes and sizes. A lady who was dressed up in suits was showing these containers to my friends' moms!  That was my very first experience of Tupperware!
I grew up with a kitchen full of Tupperware ranging from butter dish to Jello Mold to Canisters. To this date, when I go visit my parents in Vancouver, I still see those "Vintage" Tupperware canisters sitting nicely on the kitchen's counter at my parents' house.
I moved out of parents' house when I was 23 and was relocated to Ottawa due to work.  I was living in a very frugal way and bought plastic containers at the dollar store, thinking all plastic containers were made the same. Little did I know that there is a huge difference in quality. I had to replace those plastic containers once every 6 to 8 months due to staining and cracked lids.
About 7 years ago, I was on maternity leave with my first born. One day I stumbled upon a Tupperware website and I felt like I had reunited with a long- lost friend.  I was ecstatic and made my very first Tupperware purchase instantly — Tupperware Jello Mold. To this date, I still can't quite figure out why the Jello Mold was my first Tupperware purchase. I guess the Jello Mold reminded me of my favorite's childhood dessert — Mango Pudding.
Since then, I slowly added to my Tupperware Collection over time; citrus peeler, butter dish, canisters (though I tried to get the exact set my parents bought over 20+ years ago, only to find out later than they are vintage and would have cost me over $100 on Ebay!).
Our family switched to Paleo-style diet since the beginning of 2016.  We eliminated 90% of processed food, and put a huge focus on whole food..  We now consume more veggies and fruits than we used to.  Our weekly trip to Costco consists mostly of fresh meat and fresh vegetables.  I was introduced to Tupperware FridgeSmart containers around the same time. The FridgeSmart containers make storing fruits and vegetable easier by creating an optimal environment for them inside the containers, therefore keeping them fresher longer. These containers utilize the ACE (Atmosphere Controlled Environment) system what was developed by top food scientist
The FridgeSmart Containers have lids with air circulation system that including venting holes and EZ slider which you can set to open, closed or half opened, depending on the veggies in your container. These containers have permanent produce reference on them so you know what fruits / veggies to store together and what position to slide the EZ slider to in order to keep them fresh and tasty.
I was skeptical at first.  I put cut-up red and yellow pepper strips on the FridgeSmart Containers and followed the reference guide.  Those pepper strips lasted in my fridge for 10 day!  Wow!
These containers stacked nicely in my fridge and they are also dishwasher safe.  I would highly recommend them to anyone who is on Whole 30 or Paleo or simply likes to keep a lot of fruits and vegetables on hand, and the good thing is that no more veggies will be going to the waste!
All Tupperware products carried under the Tupperware Trademarks are under warranty by Tupperware Brands to perform under normal domestic use for the lifetime of the product. Tupperware will replace, free of charge, any Tupperware product, or any part that, under normal domestic use, shows a manufacturing defect.
There are several ways to purchase Tupperware products:
Via my website — 

http://barrhaventupperware.my.tupperware.ca/

Host a party –Hostess can get free products and half price products and hostess credits based on your party sales

Fundraising — benefiting organizations receive 40% from the fundraiser sales event

For the month of June (June 2016), you will receive 15% discount if you order Tupperware from me! 
Facebook: https://www.facebook.com/barrhaven.tupperware/?ref=aymt_homepage_panel