A special Event for Barrhaven Animal (and Chili) Lovers
|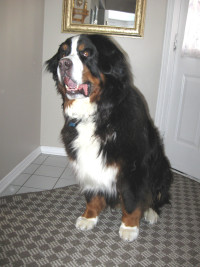 If there's one thing I know about Barrhaven, it's that we really love our pets. Going for a walk on Sunday mornings wouldn't be the same without running into my favorite dogs along the way. And yes, I do walk around with Milk Bone cookies in my pocket to feed all my furry friends. This post is for both animal lovers and anyone who's fond of a good bowl of hot Chili. After the winter we've had, a bit of warm soul food is sure to hit the spot. And doing it to help dog and cat rescue organizations is just the cherry on the sundae!
Ottawa Dog Rescue, Ottawa Stray Cat Rescue  and Sit with Me Shelter Dog Rescue are local registered charitable organizations located here in the nation's capital.  Their sole purpose is to help abandoned, surrendered or otherwise homeless companion animals. Through a foster based care system they provide medical attention, compassionate professional care and help with adoption  into well suited loving homes. Rescued animals often make the best pets. In return for a little affection and attention these remarkable animals  reward their new owners with unmatched love and loyalty.
Last year they held a Chili Cook-Off fundraising event at the Barrhaven Legion.  The event was highly successful, attracting a full crowd and raising much needed funding to help with incurred maintenance and veterinary expenses for the animals in their care.
They are very pleased to announce that they will be holding the 2nd Annual Barrhaven Chili Cook-Off and hope to improve upon last year's success.
This year's event will be held on Sunday March 29 from 1:00 to 4:00 at the Barrhaven Legion which is located at 3500 Fallowfield Rd.
This will be not be your run of the mill chili cook-off, as in addition to sampling and voting on the entries of Barrhaven's local Chili Chefs, the event will also feature amazing snacks donated by local restaurants, a cash bar, a bake sale, silent auctions, music, games, activities, and an opportunity to meet some of our amazing animals who are looking for their forever home.
Entry cost for the event is $10.00 and all proceeds raised will go directly to the dogs and cats in our care.
For more information on our organizations please see:
Ottawa Dog Rescue – otowndogrescue.com
Sit With Me – sitwithme.ca
Ottawa Stray Cat Rescue – oscatr.ca
or visit us on Facebook
Hope to see you all on March 29th!