Bringing my Arbonne Business to Barrhaven – A look at a year in the life of an Arbonne consultant
|
So this is the first blog I have ever written – but this week marks the anniversary of my first year as an Independent Consultant with the MLM company Arbonne International and I would like to give people an insight into how network marketing can dramatically change a person's life – when done the right way!
Rewind 31 years ago – I was born in the north of England and grew up there until I moved to Canada at the age of 21.  I was a British police officer for two years before moving to Canada as policing was always my dream occupation; following in the footsteps of my father & brother.
Immigrating to Canada at 21 with my family turned my world upside down; I went from my dream career in a big city to getting a job at a Tim Hortons in a small New Brunswick summer town with very limited winter employment.  I regretted my move to Canada and felt completely lost. I quickly found employment at a nuclear power plant as a security officer for 4 years and then went on to getting a job as a Border Services Officer with Canada Border Services Agency where I worked for 5 years.
I loved my job at the border (even though it was still not the police) and was finally getting back to being happy, then I met my fiance in 2013 and we had our beautiful baby boy Grayson in the Summer of 2014. Life was great!
That is until my year of maternity leave was fast approaching the end.  I had huge anxiety about going back to work & leaving my baby with strangers.  My fiance is from Vancouver and his family were all there & my family lived in England or were over an hour away.  Coming from a law enforcement background, you're naturally more skeptical about leaving your child & I would say I was on the extreme end of that.  My emotions had really taken me by surprise – I was a career girl – not wanting to return to work and wanting to stay at home with my baby.  I looked into everything, taking other children in and starting a home daycare, going part time at the border – but nothing was feasible & my employee could not grant my request for part time work.  I had just about given up the fight and was preparing for my worst fear of leaving my baby 12 hours a day, 5 days a week with strangers while my partner & I worked long shifts.
Then I was introduced to Arbonne!
Just a couple days before I returned to work I was invited to an Arbonne party. "Great! Just what I needed, to go to a party and buy something I don't want just because it is polite to do so".  I didn't even know what Arbonne was, I had never heard of it.  Either way I decided to go so I could see the girls from work before I returned – it had been a while.
So there I am at this 'Arbonne party' and after a brief introduction the consultant asks us all to take our makeup off so we can get into the facials and then put some new Arbonne makeup on. Errrrr, well if you knew me you would know that my eyeliner is pretty much tattooed to my face – it's my mask, people don't see me without it! I don't even think the girls at work had ever seen me without foundation on never mind naked eyes!  I was the girl that every two hours had to reapply at work because of my oily skin.  "Oh man, but if I don't I'm going to be that girl with no self confidence that had to leave her makeup on and could not participate – URGH, WHY DID I COME?''
So, with a warm face cloth and a brave (pressured) mindset off came the ink.  The cheap cosmetics from the local drug store that had been polluting my skin since I was about 16 turned the face cloth a shade of orange that resembled a melted Umpa Lumpa.  So I am now sat there – feeling naked without my war paint & the gorgeous consultant (that still has her make up on by the way) starts talking about why Arbonne products are the best & safest on the market.  Great – thanks Nicole, couldn't you have told us this before I took my makeup off? I thought we were just washing our faces & then putting more makeup back on; where's the makeup? Where's the exit?
Wait what? Did you just say mineral oil was waste fuel that the fuel companies sell to cosmetic & skincare companies as a filler so they don't have to pay to discard it?  I purposely have bought items with mineral oil in them – they sounded healthy! Animal bi-products can be euthanized pets & diseased cows; even road kill! – it's the fat skimmed off the top of the pot after they have been boiled down – is that what you just said? She went on to list some very interesting facts:
It only takes 26 seconds for whatever you put on your skin to enter your bloodstream and organs.

Arbonne are PETA's number one approved cosmetic company & never test on animals.

Arbonne adhere to Swiss standards; to put that into comparison there are only 8 ingredients banned in North American skin care products and nearly 1300 in Switzerland.

Arbonne products are gluten free & vegan certified.

Arbonne products are botanically based and use the very best of science & nature.

Arbonne products are formulated without artificial sweeteners, benzene, formaldehyde, phthalates, sulfates, talcs, synthetic dyes and so many more harmful ingredients.

Arbonne has been around since 1985 and is a very well established company sold in several countries.
I suddenly didn't care anymore about being sat at the table with no makeup on – in fact I felt clean and safe to not have it on.  How much damage had I done to my body in those years of wearing makeup and skin care with all those harmful ingredients, how many poor defenseless animals had suffered for me to wear that stuff?
After trying the fantastic anti-aging line (Re9 line) and then applying the absolute best make up I have ever used in my life (oh & I've tried everything) I left the party so thankful that I had gone and was now educated on this subject.  I was even more excited to receive my Re9 skincare line and all the makeup I had purchased.  I had also signed up for the 30 day healthy nutrition pack that was basically a detox kit that was having phenomenal results.  I wanted everything! All 450 products!
The next day I was driving home and I got thinking about the items I had purchased at a great deal of 20% off.  I realized that if I became a consultant for just $95 I would get 35% off these amazing products.  Maybe just maybe I could sell a little too and if I did start looking after other people's children, this extra money may help enough for me to be able to stay home – doubtful- I didn't know anyone in Canada except a few girls at the border and the people from the power plant I was no longer in touch with, I'm definitely not a sales woman and five 12 hour shifts a week with a young baby would mean I had limited time to put into it.  I already had my excuses outlined as to why it was ok if this didn't work out for me.  But something in the back of my head was saying -what if it does work? What if I can make an extra $400/$500 a month doing this?
I dialed Nicole's number and asked her a few questions – it was a no brainer, I was going to pretty much make my $95 back in discount alone. I had nothing to lose!
That night Nicole signed me up – that was May 29th 2015.
The next day I told my colleagues at work I was now an Arbonne Independent Consultant and I was fortunate to get a few of them as clients – I was over the moon.  Week by week as I spoke to acquaintances I would mention my new adventure & love for these products, each time gaining a few new clients.  I was very aware I had a tiny network though and was only thinking on a small scale.  Little did I know it was not about who I knew but about who the people I knew knew and who I was yet to meet.
Three months into my Arbonne business I got my first 3 business partners, people that wanted to join my team to also get a great discount on these amazing products and to make some extra income.
By month 4 I had matched my government wage by the time I factored in what I would be spending on childcare and gas.  I finally was able to leave work & work my business from home while watching my baby boy.  It was such a victory!  I didn't even have to watch other people's children.
By month 8 I had nearly 50 people on my team and I became a Regional Vice President with the company.  Arbonne awarded me with their token white Mercedes & lots of shiny gifts and my cheques where now double my government wage.
11 months in I felt confident that I could move away from my team and do the same thing all over again here in beautiful Barrhaven & Ottawa.  I have two business partners here in Ottawa and I am looking to extend my team particularly in Barrhaven.
I'm coming up to my 12 month anniversary & I have a fantastic team of 80 entrepreneurs, including 2 from Ottawa, a couple in Toronto, Newfoundland, Nova Scotia and British Columbia.  Some never went back to work after maternity leave, some have cut their hours down to part time, some are winning Arbonne trips to the Bahamas this year, others just are in this business so they can have a hobby business and make an extra few hundred dollars a month.  All of them have built their confidence & dreams again after feeling hopeless in their regular day to day jobs that they felt stuck in, or after feeling there was just more to life.  All of them have shared these fantastic products & this life changing business with their friends and family and even strangers, having a much larger impact on the world than they ever first imagined when signing up to be a part of this company.  All of them have gained new close friends throughout the team & filled a void in them that was wide open before.
You see this business doesn't just help people get rid of acne, dry skin, oily skin, loose extra pounds and eliminate wrinkles…it gives people choices!  It lets you live your life by design.  It lets people be their own boss.  In a day and age where we work to make someone else's dreams happen.  Where we go to work 40 hours a week, for 40 years just to retire with 40% of our wage.  Where we have to beg for vacation time or prove to someone we really are sick when we ask for the day off.  Where our efforts don't get noticed and we never feel appreciated.  I can't tell you how many times Arbonne have sent me flowers, gifts and cards recognizing my efforts.  You see with Arbonne you work for yourself but never by yourself – it's a great company with a tremendous amount of support.  Did you know 100 years ago, 90% of people worked for themselves & just 10% of people worked for someone else?  There has since been a complete economic shift and now 90% of people work for someone else & just 10% of people work for themselves.
Internet sales have outsold retail sales and Arbonne helps teach business owners how to build a digital storefront franchise.  Even Wall Street claim that network marketing is leading the economy back to prosperity.
You see we are actually not entrepreneurs at all, we are intrapreneurs.  We build our business at the risk of the larger organization as they do all the research, marketing, shipping and take all the financial risks.
By month 6 I had a viable business that if something happened to me, my family would keep getting the benefits of my ever growing business.  
If there is any little part of you that thinks there must be more to life than sitting in a cubicle 40 hours a week dreaming of being able to do what you want when you want then I urge you to try network marketing – and I may be bias but I have looked into the compensation plans of other MLM companies and they don't compare to Arbonne.  Not to mention we are a health & wellness business – this is a 181 billion dollar industry that just keeps growing.   If you know people that have hair, skin, teeth & a digestive system then you know people that can use our products! Arbonne products are consumable products so that means we get repeat clients once their products run out.   I would still be in New Brunswick travelling 3 hours a day to work and paying horrendous day care prices, never seeing my son had I not said yes.  Because of Arbonne I was given time freedom & financial freedom to move to a city that I wanted to & to work my business from wherever I want to whenever I want to.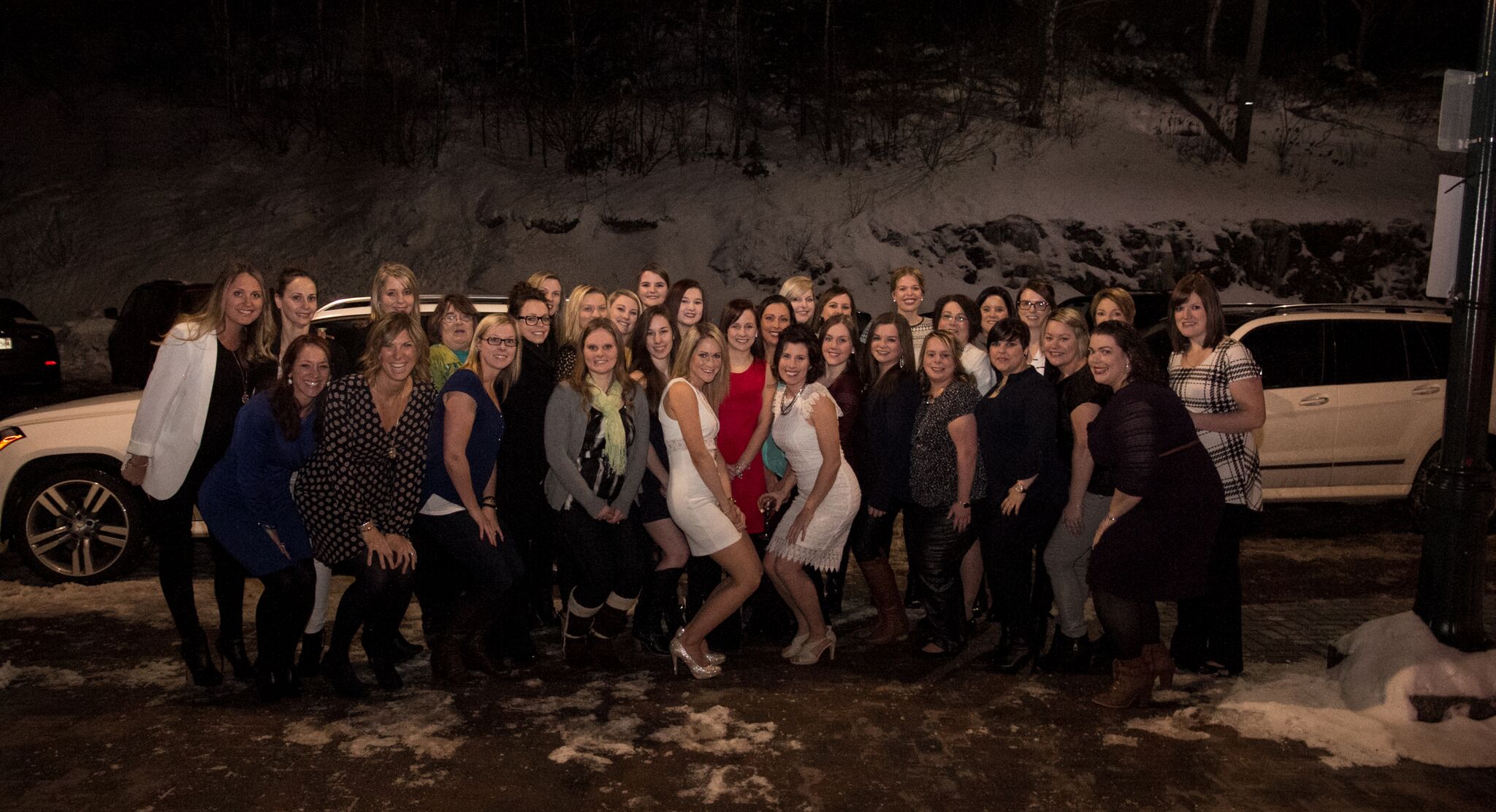 My life looked very different a year ago & although I love what it has done for me and my family, the very best part of this business is being able to watch the transformation of other people's lives.
I can't wait to see where this business takes me in my second year. There are 5 levels in this company and I am currently at level 4, level 5 (National Vice President) gets you a free trip to Maui every January…I think I can live with that.  Arbonne expands into New Zealand in June and then Taiwan at the end of the year!  We just moved into 2nd place for Canadian MLM companies and I see us being at number 1 soon.  This company is about to explode!
I love that Arbonne gives people a plan B that can very quickly turn into a plan A.  If something happened to your job – do you have a plan B?
I urge anybody with an interest in having a hobby business or in growing a business with no ceiling on the potential income you can earn to watch the short video that goes with this blog & to contact me to hear more about the products or the business opportunity.  I have been successful in this business in a short time & love showing other's how to do the same.  Please enjoy the gift certificate coupon that comes with this blog and feel free to message me to try some products for free in the comfort of your home for a few days.
I will leave you with this question to ponder over: If you stay on the path you are on – will you be anywhere different in 5 years time? If you always do what you always did, you'll always get what you always got!
Instead of asking yourself "What if it doesn't work – ask yourself what if it does?"
Alex Harrison
Arbonne Independent Consultant & Regional Vice President
(613) 222-9918
Website: Arbonne.com